It is no surprise that circles are often used in diamond jewelry design. They not only symbolize infinity but also the circle of life because of their never-ending nature.
A circle shaped diamond pendant is an excellent gift for a loved one but not only for couples. They can also represent the love between family members, the gratitude for a dear friend or a gift to oneself to acknowledge and celebrate a serious accomplishment.
If you are thinking of buying a circle shaped diamond pendant, consider these buying tips:
Check that the diamond pendant has a smooth finish. The circle should not have any visible seams.

All the diamonds used to create or decorate the circle shape must either have the same clarity and color and look like a complete unit together.

The diamond used to create or decorate the circle shape must be securely fastened to the circle pendant.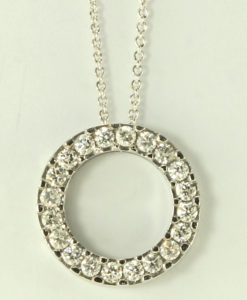 Looking for circle shaped diamond jewelry gift ideas? Just click here on our circle diamond jewelry collection link. All our circle shaped diamond jewelry are organized into ring, bracelet, earring and pendant categories.
To infinity and beyond!