The Star of David pendant is an outstanding jewelry piece combining symbolism and style. When purchasing a Star of David, or Magen David in Hebrew, there are a series of variables to be considered to ensure you buy a high-quality piece. This buyer's guide will walk through three of the most common elements to focus on when selecting a diamond Star of David pendant.
Variable #1: Size of the Magen David
The Magen David is an evocative symbol. In classic Kabbalistic Jewish imagery, the Magen David represents the authority of God over Earth, ruling in all six directions: North, South, East, West, up and down. The two interlocking triangles represent the relationship between mankind and God, with man's good deeds our represented by the triangle pointing up and God's holiness emanating down toward people.
Because of this symbolism, you'll want to select a Magen David pendant that is recognizable yet comfortable, whether that be a flat star with rows of diamonds, which shows off the shape in the metal, or a compact star with a high concentration of stones, which sparkles beautifully as a symbolic representation of the relationship between mankind and God.
Variable #2: Diamond Design
When purchasing your diamond Star of David pendant, pay special attention to the shape of the diamonds that comprise the Magen David. Pendants made of kite diamonds will sparkle with greater brilliance than a Magen David made from round diamonds when arranged in this shape. A kite diamond will always stand out in the pendant and maintain its distinctiveness even in the hexagonal form of the Star of David.
Two additional elements of design are also important: the thickness of the overall design and the setting and quality of the diamond. When selecting a diamond Magen David pendant look for one that has a good balance between shape and thickness. A Magen David accent that is too thick will not be easily recognizable, while one that is too thin will not show the overall brilliance of the kite diamond. Select a diamond Star of David pendant that shows off the kite diamond but is not too thick.
Similarly, you'll want to select a Magen David with a setting that shows off as much of the diamond as possible; half-bezel or invisible settings are optimal, while full-bezel or prong settings also work. Be careful in choosing a diamond of high quality. A clear diamond will sparkle and show off the beauty of the Magen David shape much better than a cloudy or colored diamond.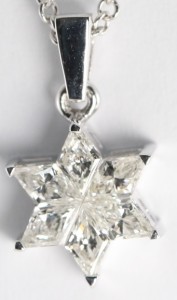 Variable #3: Gold Color & Chain Length
Like any gold jewelry piece, you'll want to strike a balance between the purity of the gold in your diamond Star of David pendant and the durability of the metal. Pure 24-karat gold is softer than its 18- or 14-karat counterparts and is therefore less durable than the alloys, however has the increased value of being pure gold. In a pendant element both the 18- and 24-karat gold settings and chains are strong enough to hold up with the Star of David shape. Select a chain that is best suited to your budget while maximizing the percentage of gold in the element.
When selecting a Star of David pendant, you need to balance the size of the element with the chain length. A chain that is too thin makes a larger pendant seem of place, while a chain that is too think draws the eye away from the element of the Magen David. Also, the weight of the element itself may deform the chain's links if they cannot support it, so strike a balance between these two aspects when selecting a pendant. Most of our chains are resizable upon request, so you'll be able to select a chain that is the perfect length for your Magen David.
Our collection of diamond Star of David pendants is available on our website, or you can build your own by contacting one of our jewelers at 1-800-557-7095 or sales@caratsdirect2u.com
Add Sparkle and Spirituality with a Diamond Star of David Pendant.