We're always adding to our collection to bring you the best selection of diamond jewelry at competitive prices and CaratsDirect2U is happy to offer a sneak preview at a new ring collection you'll be able to find on our website soon. Our newest batch fashionable diamond rings will add to our already fabulous collection of diamond multi-stone and solitaire diamond engagement rings.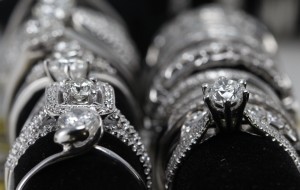 Our new ring collection of diamond pieces has something for everybody, from 14 carat white gold engagement rings, to fancy yellow gold wedding bands, to all kinds of fashionable statement rings in between. Each ring in our new ring collection, like the striking engagement rings pictured above, was hand-selected with great care and will be delivered to you with the same quality you can expect with any CaratsDirect2U piece.
Rings of all shapes and sizes can be found in our upcoming new ring collection, including various marquise, princess, radiant, and round diamonds, ranging from 1-carat rings all the way to an almost 7-carat ring. Be sure to keep an eye out on the CaratsDirect2U home page for the full details on these exquisite rings when they arrive in stock soon. We're hard at work putting the finishing touches on a beautiful collection and will be ready to bring them to you soon.
If you have any questions about our upcoming collection of diamond rings, you can always be contact us with any questions at 1-800-557-7095, where one of our expert diamond jewelers will be happy to assist you, or via email at sales@caratsdirect2u.com.
We can't wait to share our new ring collection with you!