When it comes to diamond jewelry you can't beat the convenience of buying online. This is especially true when keeping five important pointers in mind for buying a diamond bracelet online.
A diamond bracelet, which has far fewer purchasing limitations than rings, pendants, or earrings, is an easy online purchase. Buying a diamond bracelet online affords you the comfort of knowing everything about your investment and the confidence that you're getting the best deal.
Tip 1: Learn About Your Options
Buying a bracelet online with the vast resources of the internet is much easier than going to a store with only a few options. On the caratsdirect2u.com website you'll be able to sort diamond bracelets by type, diamond shape, and carat weight— among other options— ensuring you'll get the widest variety of options that suit your needs at the lowest price.
Our online inventory ensures that we can offer low prices on all of our diamond bracelets and with that knowledge you'll have that confidence that you're going to the right place to buy your diamond bracelet.
Tip 2: Comfort, comfort, comfort
With diamond bracelets, comfort is key. Bangle bracelets should be worn loose on the wrist while link bracelets and tennis bracelets can be worn either tight against the wrist or looser off the wrist, depending on what you want. Buying from caratsdirect2u.com gives you the power to choose what type and size bracelet is best for you without the hassle of driving to a jewelry dealer or the pressure from their salesman to complete a deal.
Purchasing a diamond bracelet online gives you the control to buy what you want and when you want it— be it a bangle, link, or tennis bracelet—not what a jewelry dealer thinks is the best deal for them. You wouldn't buy a diamond bracelet that's too tight because it is not comfortable nor should you have to go through a process that is equally as uncomfortable.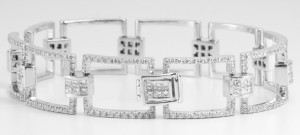 Tip 3: Knowing a Good Deal
If the benefit of buying a diamond bracelet in a store is that you can see what you're buying up close, there's no better option than buying online, where you can compare any piece to other places instantly. On the caratsdirect2u.com website you can view almost any diamond bracelet in a full 360* degree view, accompanied by high-quality photographs that allow you to feel like you're in a store from the privacy of your own home. Our 30-day return policy affords you the piece-of-mind that if, for whatever reason, you're not satisfied with the diamond bracelet, you're not stuck in a bad deal. And you can always reach our professional jewelers toll free for help and advice so you'll be able to know you're getting the best deal possible both with selection and price.
Tip 4: What You See is What You Get
A diamond bracelet is an investment that shows off your sense of style in a way that other jewelry can't. Unlike rings, whose diamond shape must be complimentary of the type of finger which they sit on, a diamond bracelet is not dependent on the size of your wrist since the vast majority of people have a standard-sized wrist between 7.5 and 8.5 inches. 14k and 18k gold diamond bracelets are a much easier purchase to buy online than anything else since a diamond bracelet needs only to complement your outfit, and what you see online is what you get. Because of that, online shopping is much more convenient than going into a store and going through a whole rigmarole there.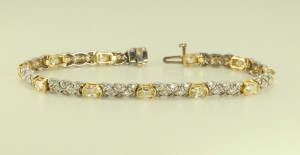 Tip 5: Broaden Your Possibilities
The purchase of a loose diamond online as opposed to in a store is a vastly different experience from buying jewelry online as opposed to in a store. Loose diamonds have specifications while most jewelry is more a fashion element.
A bracelet is the closest piece of jewelry to buying a diamond since most of the cost of a bracelet is the diamond itself. This is especially true with a tennis bracelet, which is a row of diamonds set in gold and held together by a clasp. So buying a diamond bracelet online is a similar process to buying a loose diamond and buying both online have great benefits.
An online purchase of a diamond bracelet is a special way to surprise a loved one treat yourself to a fancy new gift. Keeping these five tips in mind, you'll be able to buy a diamond bracelet online at the time and manner that best suits you. We are always happy to answer your questions about diamond bracelets or other jewelry contacting sales@caratsdirect2u.com or calling one of professional jewelers at 1-800-557-7095.
Complete your wardrobe with a diamond bracelet