A diamond bangle bracelet is an extraordinary piece of jewelry but as a piece of diamond jewelry with so many options it is important to keep 5 tips in mind when you decide to buy a diamond bangle bracelet. A bangle bracelet is a made of one solid material without a clasp, usually worn in clusters of a few bracelets. A diamond bangle bracelet can be worn singularly to show off a fancy taste in diamonds or with a grouping to produce sparking effects. Always remember these 5 tips when choosing to buy a diamond bangle bracelet.
Tip #1- The 4 Cs
Like any diamond purchase, the 4 Cs – color, cut, carat weight, and clarity – are of the utmost importance. You should always choose a diamond with a good color, cut, clarity, and a desirable weight, but since the diamonds are set in a bracelet you have some room to maneuver. Inside a metal bracelet setting some imperfections can be hidden so you can choose a diamond that is a bit lower on one of the 4 Cs because its imperfections are not as apparent. Bangles are made of a singular piece of fixed metal and don't bend so the diamonds will always stand out and you need to make sure that the diamonds you choose are up to your standards. Don't forget- always choose a diamond shape that's best suited for you, a fact almost as important as any of the 4 Cs.
Tip #2- Band material
The bangle bracelet is as much an opportunity to show off the metal setting as it is the diamond, especially since bracelets are one if, if not the most, visible items you can wear. When buying a diamond bangle bracelet, the setting has to be durable, which means you need a balance between fashion and durability. Tin is a durable metal but does not make for a fashionable setting while pure 24-karat gold is highly fashionable but incredibly easy to scratch, scuff, or dent, as gold is a soft metal. The best compromise between the two is to choose a bracelet made of silver or gold between 10 and 14 karats, alloys of pure gold whose addition of an extra metal makes them more durable yet still highly fashionable. You'll be able to find a wide range of choices on the CaratsDirect2U website.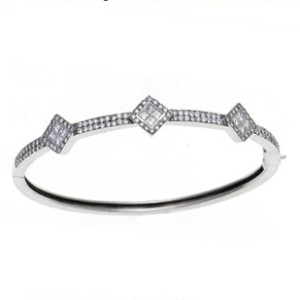 Tip #3- Band setting
Like the dual requirements of the band material, your bracelet's setting also needs to be both fashionable and durable. A prong setting will allow the diamonds to reflect light in all directions but runs the risk of letting diamonds fall out after consistent wearing. A wraparound bezel setting is a good compromise between structure and fashion and is the best setting for a bangle bracelet.
A half- or full-bezel setting, either partly or fully encompassing the diamond, will show less of the lower half of the diamond but will stand up to wear and tear that could come with wearing a bracelet. Choose a bezel setting for a bracelet you plan to wear with any frequency but don't be afraid of a prong setting for a fancier bracelet worn only on special occasions.
Tip #4- Number of bangles
Bangle bracelets are a lovely piece of jewelry because of their versatility, with the ability to spice up every-day wear or serve as the final piece in a fancy wardrobe. Keep in mind, you don't need to wear just one bangle bracelet; in fact, wearing a few bangle bracelets not only makes the wrist more fashionable but also lets you stand out as the bangles knock together and produce sound.
Select your diamond bangle bracelet with considerations of whether it will be worn alone or in a group, as this changes the way the piece is worn, and don't forget to always let each piece shine no matter if alone or worn in a group.

Tip #5- Fashion sense
With most of our link bracelets, you have the option to choose how close to the wrist you want to wear the piece. Unlike other types of bracelets, bangles always hang low on the wrist and are always noticeable. A narrow bangle bracelet will result in what looks like a ribbon of diamonds, while a wide bangle bracelet will envelop its diamonds, so choose a style of bangle bracelet that most compliments your sense of fashion. Likewise, you can select a bangle bracelet with the most show for your money by choosing one with more stones and less gold. The key is to match the bangle bracelet to your wardrobe and your sense of style, since there are so many options out there.
The diamond bangle bracelet is a durable, fancy way to improve any look. But with so many options, it is important to keep these 5 tips at hand when buying a bracelet so that you can select the piece best suited for your needs and desires. We are always happy to answer your questions about diamond bangle bracelets or other jewelry contacting sales@caratsdirect2u.com or calling one of professional jewelers at 1-800-557-7095.
The diamond bangle bracelet- the keystone of any wardrobe.