An amazing addition to our already stunning collection
You can Kick off 2017 with the right jewel and feel like a princess. We have just added some of the most beautiful jewelry on the market today, an incredible selection of 18k yellow gold and 18k white gold rings, invisible tennis bracelets, elegant eye-catching pendants and magnificent drop earrings. Each piece is hand crafted and set with stunning matching diamonds designed to bring in the New Year with pure exhilaration.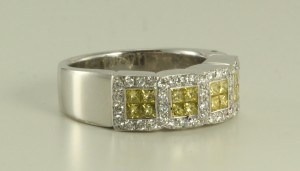 The combination of baguette and princess cut diamonds set in exotic designs and all of the highest quality makes these items truly unique in design. Baguette diamonds and princess cut diamonds create an effect that goes beyond the scope of round diamonds. By carefully setting them together creates an illusion of a solid mass of diamonds sometimes known as invisible setting simply because it appears as if there is no gold between the diamonds. The end result is that for the same carat weight of diamonds visually the item looks more luxurious and exclusive.
This new large assortment of jewelry complements the already existing collection of CaratsDirect2U 's and makes it into one of the most exciting and exclusive arrangement of jewelry available online today. Contemporary, chic and exclusive designs are to be found here and for the woman that is looking for a jewel to turn heads and win admiration, the woman who breathes fashion, this is the place to find it.
Become a celebrity this year with the new diamond jewelry collection