Looking Beyond Round Cut Diamonds
Round cut diamonds have been the most popular diamond shape for over a century. They are followed by other popular shapes such as Princess, Radiant and Oval cut diamonds. However, for specific diamond jewelry pieces, non-traditional diamond shapes such as Kite, Briolette and Rhombus cut diamonds are preferred to the traditional shapes. This blog takes a look at some of the most unique diamond shapes and how they are used in diamond jewelry today.
Kite Diamonds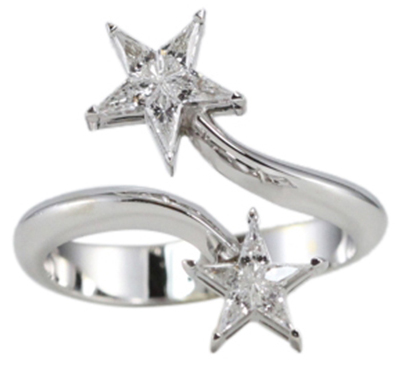 Kite shaped diamonds are usually sold already mounted, often either in a diamond pendant or in a pair of diamond stud earrings. Because of their long, thin profile, Kite shaped diamonds are usually connected to one another from their smaller half, with 5 smaller stones often grouped together to create jewelry in the shape of a star.
An even more creative use for this diamond shape is this 18k white gold invisible setting Double Star Diamond Ring with 10 G color, VS clarity Kite shaped diamonds weighing a total of 0.56 carats.
Rhombus Cut Diamonds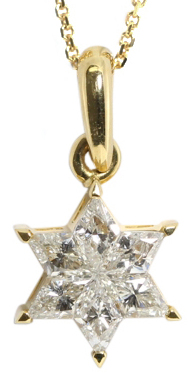 At first glance this shape looks like a Kite shaped diamond. However, upon closer examination you'll notice a much larger surface area and a totally symmetrical shape.
Also used in diamond pendants, the Rhombus diamond is set in a similar way to the Kite shape, but usually with six diamonds, rather than the five you find in jewelry pieces containing Kite cut diamonds. 6 Rhombus diamonds in an invisible setting will create jewelry in the shape of a star of David.
Briolette Cut Diamonds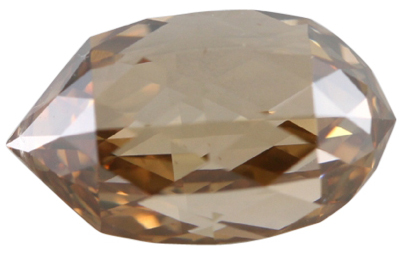 Briolette cut diamonds are extremely unique in their profile and facet arrangement. This shape, also referred to as a "drop cut", dates back to the 1600s, where it was popular among members of the royal family and noblemen. Today they are quite rare and are used mainly to decorate diamond pendant chains or as part of Briolette cut dangle earrings.
They are set without prongs, rather a very small whole is drilled through the top of the diamond to run the chain or hook through. Briolette cut diamonds are becoming more popular today, particularly larger diamonds over 3 carats in weight.
Limited Edition Millennial Sunrise Cut Diamonds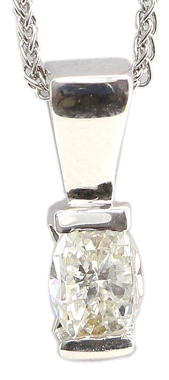 In contrast to the briolette cut diamond, the Millennial Sunrise shape was brought into production only 18 years ago. Similar in some ways to the classic Oval cut, the shape was created as a limited edition cut in honor of the then-upcoming new millennium.
The shape has 7 "windows", producing light with each movement. It is sold in solitaire pendants, multi stone pendant chains and diamond stud earrings. You can learn more about Millennial Sunrise Diamonds by taking a look at our informative Millennial Sunrise Diamond buyer's guide.
Octagon Cut Diamonds
Initially, Octagonal shaped diamonds look like Radiant cut diamonds. Look closer and you'll see that there are eight sides to this shape, rather than four. The shape is adaptable and can be used for pendants, diamond engagement rings, bracelets and diamond earrings.
This GIA certified natural fancy light greenish yellow, SI1 clarity, 1.51 Ct, brilliant octagon shaped loose diamond would make a great center stone for a diamond solitaire pendant necklace.
Multi Shape Diamond Jewelry Pieces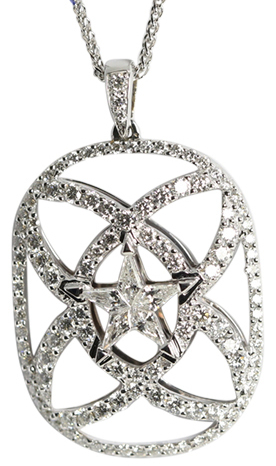 These five special diamond jewelry shapes are often complimented by other diamond shapes. Often, smaller round or Princess cut diamonds will be used as surrounding stones to accent the unique shape in the center of the piece.
For example, take a look at this 18k white gold invisible setting star pendant weighing a total of 1.29 carats contains 5 G color, VS clarity Kite shaped diamonds surrounded by several small Round cut diamonds. The surrounding diamonds, together with the creative design, makes this pendant a much larger and more noticeable piece of jewelry. This diamond link bracelet contains both limited edition Millennial Sunrise and Round cut diamonds in a 14k two tone bezel setting.
Always Happy to Help
We are always happy to help. If you have any questions about loose diamonds or diamond jewelry, we can always be contacted on 1-800-557-7095 where one of our expert diamond jewelers will be happy to assist you. Alternatively, you can email us at sales@caratsdirect2u.com with any questions you may have.