Sweet Smelling Jewels   
Diamond Flower Jewelry is as versatile, sophisticated, expressive, colorful and as sweet smelling as the real blooms themselves. As much as each petal is important in a flower for it to be considered complete so too in an 18k gold diamond set jewelry every stone plays its own unique function.
The meticulous diamond cutter together with the master jeweler create breathtaking dreamy and delightful 18kt yellow gold and 18kt white gold diamond rings, extravagant, exquisite invisible set tennis bracelets, gorgeous, graceful pendants and enchanting, exotic earrings.
Diamond Flower Jewelry puts the aroma back into the passion of your wardrobe and they express the same emotions, shape, color, how and when they are worn. The face needs elegance and sophistication, and earrings accentuate this in the very best way. Gold and diamond bracelets reveal confidence and authority in a delightful and pleasing manner.
Every woman needs to show her determination and fortitude, and pendants set with single diamonds focusing on a particular point create this characteristic admirably. A round diamond or a princess in a plain four claw setting on a classic chain.
Let the fingers do the talking especially when it's about romance and passion with elegant rings. All of these items allow the woman to show her empathy and generosity.
They say "minds are like flowers they only open when the time is right," we say the same about jewelry with an important difference "every time is always right for the magic of jewels."
Let your fingers come alive with flowers
18k and 14k white, rose and yellow gold Diamond Flower Rings have a style that can say more about you than your dreams can ever imagine. They have always been a feature of CaratsDirect2U who constantly add to this collection.
We wrote in a previous blog …"A famous slogan once stated, "Let Your Fingers do the Walking" we say "Let Your Fingers do the Talking". The first thing people notice and one of the most important elements in body language is the hands and fingers." Flowers induce a feeling of freedom of expression, emotion and feelings.
This revealing finger deserves the very best expression and there is nothing better than a Diamond Flower Ring. This adds importance to the role of the finger and the ring placed on it accentuates this more than any other item of jewelry. Flowers bring smiles, make peace, say I love you, through the power of scents color aesthetics or maybe it's just pure magic, the stuff that diamonds and jewelry is made from.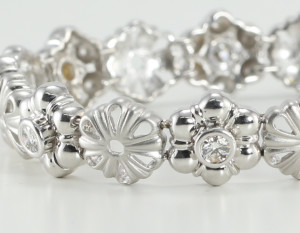 Spice up Your Life with Diamond Flower Jewelry