Two Tone Diamond Jewelry – Get the Best of Both Worlds
When it comes to purchasing diamond jewelry pieces, the metal type you choose for the jewelry design really depends on your personal taste. Of course, traditionally people choose between yellow gold or white gold settings, but recently two-tone jewelry pieces have become increasingly popular, with multiple designs to choose from.
From classic two tone white and yellow gold diamond solitaire rings to two tone rose and white gold diamond anniversary rings, you really can be as creative as you wish with the design. This blog will share some useful tips on buying two tone and multi tone diamond jewelry pieces.
1. Who is the Jewelry Piece for?
When it comes to multi tone diamond jewelry pieces, what you decide to purchase depends on who you are buying the piece for. Does the lucky recipient of this jewelry piece prefer multiple small diamonds or one or two large diamonds?
Do they like fancy colored diamonds or white diamonds? Further, consider whether this item will be for daily wear such as an engagement ring, or for special occasions such as dinner parties and family events. If this person prefers a vintage look, perhaps you'll consider a vintage style yellow and white gold two tone diamond tennis bracelet.
2. Understanding the Gold Tone Metal Stamp
As with any gold setting, the metal stamp will be on the inside of the jewelry piece. The type of metal stamp on the jewelry piece depends on where the item was manufactured. For example, in the UK, 14k yellow gold will be stamped with the hallmark number 585. Jewelry manufactured in the USA, however, will be stamped with the 14k mark.
In this case, jewelry containing multiple tones requires one metal stamp. If you cannot find a metal stamp on your piece of jewelry, this does not necessarily mean that it does not contain real gold, though we do advise visiting a local jeweler to examine the piece.
3. Check the Diamond Color Grade
If you are customizing your own diamond jewelry piece the color grade of the diamond or diamonds you are matching to the jewelry piece should be taken into consideration with choosing the diamond ring or diamond pendant setting. For example, a lower color grade, such as I – K, will look darker in a yellow gold setting than in a white gold setting.
This does not mean you should rule out a two tone or multi tone diamond jewelry setting, but you may want to have the main stones in the jewelry be set into the white gold tone of the jewelry piece.
4. Match your Multi Tone Diamond Ring to the Your Skin Tone
One of the beauties of two tone or multi tone diamond jewelry pieces is that they can match almost any skin tone. While white gold diamond jewelry is best suited to lighter skin tones, yellow and rose gold will tend to suit darker skin tones.
For this reason, the metal types in two tone diamond jewelry pieces such as two tone yellow and white gold or two tone rose and white gold jewelry complement each other to look great on almost any skin tone.
5. Find the Right Two Tone Diamond Jewelry Ratio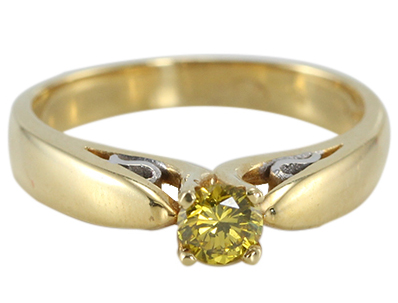 You will notice that some multi tone diamond jewelry pieces contain more of one color than the other. For example, this round diamond solitaire engagement ring is set in 18K two tone gold, with a 0.32 Ct fancy yellowish green irradiated center stone with a VS2 clarity grading. You'll notice that this piece is mainly yellow gold, with a little bit of white gold in the underside of the ring.
6. Comparing Rose Gold with Yellow Gold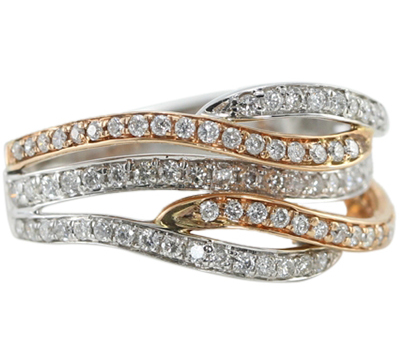 Typically, two tone diamond jewelry pieces contain yellow gold and white gold. However, rose gold, also referred to as pink gold or red gold, is becoming more popular and is often used in a two tone diamond ring, thus giving it a vintage look.
For example, this two tone diamond anniversary ring containing 91 G-H color, SI2-SI3 clarity round cut diamonds weighing 0.62 Ct is set in two tone rose and white gold. Because rose gold is more unique than yellow gold, we advise you ensure the person you are purchasing the diamond jewelry piece for will like the distinct design.
Finding the Multi Tone Diamond Jewelry Piece of Your Dreams
CaratsDirect2U has an extensive range of two tone diamond jewelry pieces, from 14k two tone diamond solitaire engagement rings to 18k two tone multi stone diamond fashion bracelets. We also have one-of-a-kind elegant flower shaped two tone yellow and white gold diamond stud earrings that would be perfect for special occasions.
Further, if you have something specific in mind and you can't find what you are looking for, we can customize any diamond jewelry piece. To get started, simply email sales@caratsdirect2u.com and we'll help you every step of the way.
If you have any further questions, we can always be contacted on 1-800-557-7095 where one of our expert diamond jewelers will be happy to assist you.