Invisibly Set Round Cut Diamond Earrings
Diamond jewelry pieces laced with several smaller diamonds in an invisible setting are popular for several reasons. One of the most notable selling points of such a piece is that it contains several small, sparkling diamonds, meaning the jewelry piece produces a large amount of light.
Having many diamonds set closely together in one piece of jewelry also gives the appearance that the diamond jewelry piece has a higher carat weight than it actually does. For example, the above pair of invisible setting round cut diamond earrings is 2.01 carats in weight but has the appearance of being 3 Ct. This means that the diamonds in this pair of earrings appear almost 50% larger than they actually are.
While princess cut diamonds are most commonly used to create invisibly set diamond jewelry pieces, round cut diamonds are also often used, with great skill and craftsmanship required to create such beautiful and desirable pieces of jewelry. Take a look at our useful tips to purchasing invisibly set diamond earrings with round cut diamonds.
1. Choose the Style
Invisible setting diamond earrings are usually found within the following main style categories: Invisible setting diamond stud earrings, diamond drop earrings and dangle earrings.
Invisible Setting Diamond Stud Earrings
Diamond stud earrings are the most classic earring type, traditionally containing one diamond in each stud. However, with invisibly set diamond stud earrings, you can be far more creative.
Dangle Earrings
Dangle earrings, as the name suggests, dangle below the earlobe. They are often reserved for special occasions rather than worn every day. Here is a great example of a pair of dangle earrings with a prong setting dangling towards invisibly set round cut diamonds used as the main stones.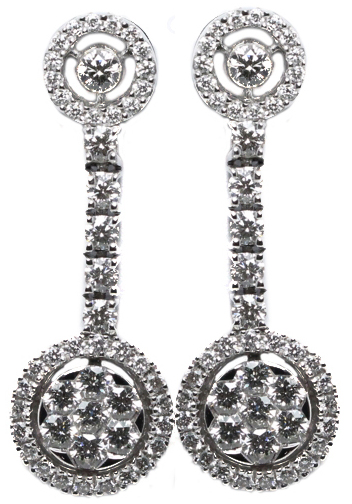 Drop Earrings
Similarly to dangle earrings, drop earrings hang just below the earlobe. The main difference between the two styles is that drop earrings move around far less, while dangle earrings tend to have a lot of movement.
2. Choose the Carat Weight
In contrast to purchasing single-stud diamond earrings, when it comes to invisible setting earrings, the carat weight appearance will most likely appear higher to you. While some items may be listed online with the carat weight appearance on them, there are ways you can estimate how much bigger than their actual carat weight the diamonds look.
One way would be to hold up one of the earrings next to a single stud earring of a similar carat weight and ask a friend which one they believe has a larger carat weight. We also advise that the difference between the actual carat weight and the carat weight appearance is likely to be greater when there are many very small diamonds (such as 0.10 carat stones), than 4-6 larger diamonds (0.25-0.50 carats).
3. Choose the Invisible Setting Metal Type
The most common metal type used in invisible setting diamond earrings is yellow gold or white gold, with some opting for a more unique two tone yellow and white gold setting. While yellow gold will usually suit those with darker skin tones better, the choice untimely comes down to personal taste.
Choosing Between a 14k and 18k Metal Stamp
The difference in appearance between 14k and 18k white or yellow gold is not always easily noticeable. Those who do notice a difference will see that 18k gold is slightly shinier. This is because 18k gold contains 75% pure gold, compared to 58.3% gold in a 14k gold setting.
While this doesn't necessarily mean 18k gold is always a better choice, if you are spending over $800 on your invisible setting round cut diamond earrings, the difference in price between 14k and 18k gold will be so small that it is probably not worth you making a decision based solely on that.
4. Choose your Main Diamond Type
While you may choose an invisible setting pair of diamond earrings with several round cut diamonds of the same carat weight and color, some may opt for a pair of earrings with larger stones in the center surrounded by invisibly set round cut diamonds.
There is really no limit to how creative you can be when choosing the main diamonds for your diamond earrings. However, we advise you make sure that the main stones are well suited to the surrounding diamonds or side stones.
5. Get Matching Diamonds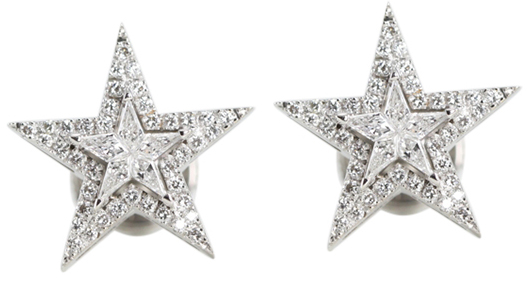 If you are customizing your pair of diamond earrings, you will need to ensure the center stones look good with the surrounding diamonds.
For example, this pair of 18k white gold kite cut invisible setting star & pave earrings is surrounded by round cut diamonds with a G color and VS clarity grading, weighing a total of 0.62 carats. The two different diamond shapes look truly beautiful on one piece of jewelry. If your pair of invisible setting diamond earrings only contain white diamonds, ensure that the surrounding stones are within one clarity and color grade of each other.
Getting the Right Invisible Setting Round Cut Diamond Earrings
In addition to the above five tips, be sure to research The Four C's of diamond jewelry; carat weight, color, clarity and cut to help you make the best choice. If you require any further guidance to help you make your decision, feel free to contact us either by emailing sales@caratsdirect2u.com or calling 1-646-362-2141 to speak to one of our expert diamond jewelers.