Lower Color Graded Diamonds
People who have experience purchasing diamonds will know that a D color graded diamond will always be more expensive than the same stone with a K color grade. That is because a D color graded diamond is considered colorless and is rarer. Higher color graded diamonds are generally more desirable and will therefore always be in a higher price range.
However, many diamond buyers specifically look for diamonds with lower color grades such as K, L and M. This blog will highlight five key reasons why people purchase lower color graded diamonds:
1. Larger Diamond for Your Budget
Firstly, many people would love to own a large diamond but may believe they do not have the budget for such a stone. Because a D colored diamond will always be more expensive than a K – M colored diamond, the lower the color grade of the stone, the lower the price. This allows you to purchase a larger diamond for your budget. For example, a 1.04 carat round cut loose diamond with an L color and VS1 clarity grade costs $2,044.55.
A GIA certified round cut 1.01 carat white diamond with an E color and VS2 clarity grading costs $8,211.40. Therefore, by lowering the color grade you are looking for, you stand to save over 75% and still get a diamond with a slightly higher carat weight and clarity grade.
2. Lower Color Grades Suit Darker Skin Tones
People with darker skin often prefer diamonds with a faint yellow presence as it will suit their skin tone better than colorless diamonds. This is particularly true when it comes to diamond stud earrings.
3. Great for Yellow Gold Settings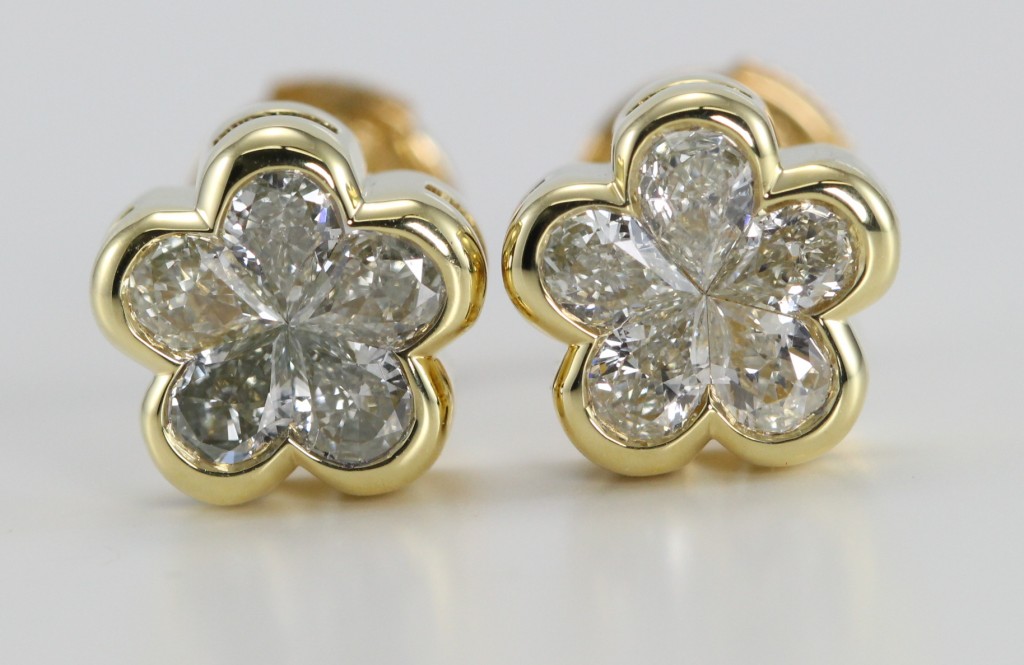 For round diamonds in a yellow gold diamond solitaire setting, you should consider buying a K – M color graded diamond. This is because the whiteness of the diamond is absorbed into the yellow of the gold, so even a higher color graded diamond will appear slightly yellow.
For princess, emerald and Asscher cut diamonds, this would be the equivalent of getting a K colored diamond due to their difference in facet arrangement.
4. Strong Fluorescence Makes Diamonds Look Whiter
Another way of purchasing a lower color graded diamond while still getting a diamond that looks relatively colorless is to buy a K – M colored diamond with strong fluorescence. While a medium or strong blue fluorescence tends to diminish the brilliance of colorless diamonds, they often make lower color graded diamonds look whiter. Not many people know this smart way of saving money when purchasing a diamond.
5. Lower Color Graded Side Stones
Pave or side stones can often be up to two grades lower than the center stone of a diamond engagement ring or diamond pendant. In many cases, customers prefer lower color graded side stones to accentuate the brilliance of the center stone. Therefore, if your center stone is I – K colored, the side stones can be J – L graded. This is also another great way to save money on side stones.
CaratsDirect2U has a large range of K – M color grade white loose diamonds. If you would like to know more, or to speak to one of our expert jewelers, contact us for free on 1-800-557-7095. Alternatively, you can email us at sales@caratsdirect2u.com with any questions you may have.