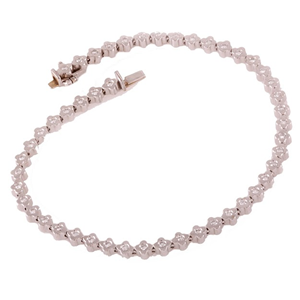 What is Cyber Monday?
Every year, Cyber Monday occurs the Monday immediately following Thanksgiving, with the start of the holiday shopping season having just been marked by Black Friday. The day has been a phenomena since 2005, after it was noticed that online sales increase globally around this time of year as people start looking for the ideal Christmas gifts. Every year e-commerce sites and consumers try to take advantage of Cyber Monday. The competition online provides great opportunities for consumers to make savings by purchasing Christmas gifts on the internet a few weeks before Christmas.
This year, in honor of Cyber Monday, CaratsDirect2U are offering some fantastic savings.
Save Money on Diamond Jewelry Gifts
This Cyber Monday, enjoy some great savings on diamond jewelry:
Save 5% on all Diamond Jewelry
Whether you are after loose diamond pairs to set as side stones for a diamond ring, or the person you are buying a gift for would prefer a dazzling diamond tennis bracelet, enjoy some great savings! We will be offering 5% off all diamond jewelry on November 29th and on Cyber Monday, November 30th.
Free Shipping for One Whole Week!
On top of great savings this Cyber Monday, get free shipping to all US destinations on all diamond jewelry pieces over $800. Enjoy this offer from December 1st until December 7th.
Want to know more about how you can save money on diamond jewelry this holiday season? We can always be contacted on 1-800-557-7095 where one of our expert diamond jewelers will be happy to assist you. Alternatively, you can email us at sales@caratsdirect2u.com with any questions you may have.