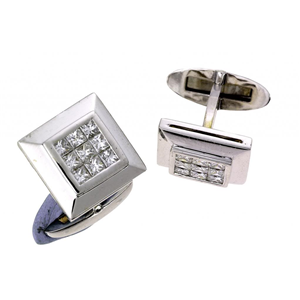 Purchasing Diamond Jewelry for Father's Day
Now that Mother's Day has been and gone, with many diamond jewelry gift ideas readily available at a range of prices, it is now time to take a look at how to purchase diamond jewelry for Dad. Father's Day, celebrated on 21st June, is often seen as a more difficult occasion to purchase for, and diamond jewelry may not be the first idea to come to mind. However, diamond rings, diamond stud earrings and pendants are not just for woman. This blog will therefore give you some guidance on purchasing personalized Father's Day gifts and show you how you can maximize your budget and get the ideal diamond jewelry gift for Father's Day.
Win Dad's Heart with a Larger Diamond
The color and clarity rating of a diamond is often seen as an important aspect of choosing diamond jewelry as a gift. For men, however, the size of the stone is often the most important characteristic of a diamond. This may be because men are generally less accustomed to wearing diamond jewelry, meaning that if they do, then the consensus is that it should stand out and get him noticed.
Therefore, many men will maximize their budget and purchase jewelry containing larger stones and a lower, I1 – I2 clarity grading. You can also save money by purchasing lower color graded diamonds, such as J – K or even L – M color graded diamonds, meaning that the diamond will be slightly yellow, a great color for darker skin tones in particular.
For example, a 2.35 carat, J color and I2 clarity loose white cushion cut diamond costs $4,141.90. A radiant cut diamond of 2 carats with an I color and SI2 clarity costs over twice that amount, at $9,115.40. You can therefore purchase a larger stone for much less by considering slightly lower color and clarity graded diamonds.
Large Diamond Stud Earrings
Sparkly diamond stud earrings are becoming increasingly popular among men. Many men prefer to make a statement by wearing one stud earring, while others favor a pair. Again, a larger pair of loose diamonds can be purchased at lower prices by slightly decreasing the clarity and color grading of the pair.
An I1 graded pair of loose diamonds will cost far less than an SI1 graded pair of diamonds. With a slightly lower color grading as well, it's possible to purchase a larger pair of stud earrings while keeping within your budget.
Consider Clarity Enhanced Diamonds
If you are purchasing diamond jewelry with large diamonds for someone who would like to maintain a higher clarity grading, why not consider clarity enhanced diamonds? Purchasing diamonds that have undergone the clarity enhancement saves the average customer at least 45%.
For example, a 2.6 carat radiant cut loose diamond with a J color and SI1 clarity that has undergone the clarity enhancement process costs $5,915.00. A radiant cut loose diamond with a 2.02 carat weight, H color and SI2 clarity costs $9,515.40. This means a clarity enhanced diamond of a much larger size and a better clarity grade costs $3,500 less.
Color Treated Diamonds
For the father that prefers large fancy colored diamonds, consider purchasing HPHT or irradiated color treated diamonds, particularly loose diamond pairs for diamond stud earrings. For example, this 1.75 carat fancy vivid brownish gold yellow irradiated treated emerald cut loose diamond with a high VS1 clarity grade costs under $2,500 at just $2,467.50.
Invisible Set Diamond Cufflinks
Apart from giving one the ability to boast several expertly set diamonds on one piece of jewelry, the invisible setting gives the diamonds the appearance of being larger than they actually are. A pair of diamond cufflinks (see photo above) contains 18 G color and VS1 clarity diamonds, equaling 1.64 carats. It is a lovely gift for your father to wear on those extra special family occasions.
Find the Ideal Diamond to Match your Setting
CaratsDirect2U does not currently stock men's diamond jewelry, but we do have an extensive collection of fancy loose diamonds and loose diamond pairs. We can therefore customize any jewelry setting, such as rings, stud and necklaces to our loose diamonds. We wish all our customers good luck with purchasing the perfect piece of diamond jewelry for Father's Day.
If you have any other questions regarding diamond jewelry please feel free to contact our professional jewelers at 1-800-557-7095 or email sales@caratsdirect2u.com.