Why Buy Color Treated Diamonds?
Fancy color diamonds have been continuously increasing in popularity, with a large range of colors available. There is also an array of color intensities to choose from when looking for fancy color diamonds. Due to their rarity, fancy color diamonds are known to be expensive, meaning that customers must choose between purchasing a fancy color diamond or a larger stone that is not colored.
Now the customer can have the best of both as fancy color diamonds that have been treated with either the HPHT or Irradiation treatment are readily available. These diamonds have undergone treatments which enhance their color, while still strictly maintaining their status as 100% mined diamonds.
Today these color treated diamonds offer the buyers an ideal opportunity to maximize their budget and to purchase a larger stone or side stones with the money that they save. For example, when purchasing the popular yellow color fancy color treated diamond, the customer can save 45% – 75%.
We have listed three categories of jewelry which we feel are most suitable when using fancy color treated diamonds:
1. Fancy Color Treated Diamond Stud Earrings
No wardrobe can ever be complete without a pair of diamond stud earrings. Customers often seek particularly large stud earrings so they can be noticed from afar, with 1.5 carats to 2 carats seen as the ideal carat weight for a pair of diamond stud earrings. Furthermore, colored diamonds allow for creativity and uniqueness.
2. Fancy Color Treated Diamond Engagement Rings
When it comes to diamond engagement rings, there are many options available. You can save a lot of money by purchasing an engagement ring with fancy color diamonds. For example, by purchasing a fancy color treated center stone, you can use the money you save to purchase a ring with side stones as well.
Alternatively, you may choose to purchase a pair of fancy color treated loose diamonds to use as side stones and highlight the shine and brilliance of the center stone.
3. Blue Fancy Color Treated Diamond Pendant Necklaces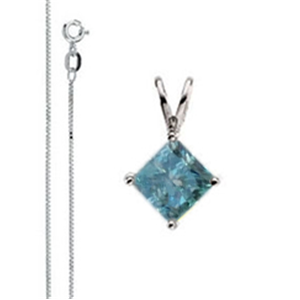 With diamond pendants, blue diamonds are not only beautiful, but slightly more expensive than other diamond colors. We have a fantastic range of fancy color treated blue diamond pendants. A fancy color treated diamond pendant is an ideal piece of jewelry for those special occasions; to match that special dress or to simply show off to your friends. For example, this unique 14K pendant with a 2.03ct ocean blue, SI1 clarity princess diamond has undergone both the irradiated and color enhancement treatment and costs just over $3,000. This means you will save around $3,000-$5000 by purchasing this color treated diamond as opposed to purchasing similar non treated diamonds.
Making the Most of it
CaratsDirect2U has a fantastic choice of fancy color treated diamond jewelry available. Additionally, we have a great variety of loose diamonds, loose diamond pairs and jewelry settings available so we can customize jewelry and match loose diamonds to the appropriate setting.
Remember, all our diamond jewelry is sold at wholesale prices and comes with a 30 day return policy, so you can be sure you're getting a great deal from a trustworthy online diamond jewelry seller. To learn more about color treated diamonds, take a look at this color treated diamond online buyers guide or some of our other related articles in the diamond education section of our website.
If you have any questions about diamond jewelry, we can always be contacted on 1-800-557-7095 where one of our expert diamond jewelers will be happy to assist you. Alternatively, you can email us at sales@caratsdirect2u.com with any questions you may have.