Diamond Jewelry Ideas to Make Heads Turn
Choosing the ideal piece of diamond jewelry is a serious and timely task. However, every second spent examining different diamonds and considering the color, clarity and carat weight of each stone is worth it. One of the considerations that many people may have when choosing diamond jewelry is "what will get me noticed?" There is no shame in admitting that you would favor a piece of jewelry that will gain you regular compliments when you are out and about. Here are five diamond jewelry ideas that will get people talking well after your next party.
1. Large Fancy Color Diamonds
Purchasing a fancy color diamond is already one sure way to own a unique piece of diamond jewelry. If you purchase a piece of diamond jewelry with a fancy color center stone over 3 carats, you will certainly catch the eye of the crowd. Many customers choose to purchase fancy color treated loose diamonds that have undergone the HPHT or irradiated color enhancements in order to afford a larger stone. You can save up to 50% by purchasing a fancy color treated diamond compared to a natural fancy color diamond.
2. The Invisible Setting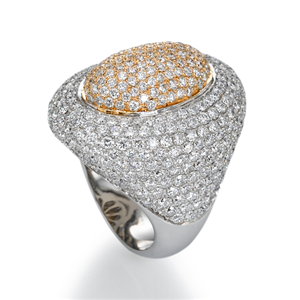 Getting noticed does not simply mean wearing larger diamonds though. Could you imagine wearing a piece of diamond jewelry encrusted with over 300 stones? With an expertly set piece of invisibly set jewelry, this is possible. For example, this diamond ring contains 382 diamonds equaling 5.71 carats, is set in 18k White and Yellow Gold Leveled Pave and has a G Color and VS1 Clarity grading. We also have invisibly set diamond pendants with over 90 stones.
3. Add Diamonds to your Wedding Ring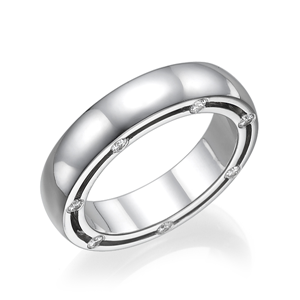 Traditionally, a wedding ring consists of a white gold or yellow gold band. Why not consider a ring containing diamonds? For under $1,000, you can now purchase a wedding band containing at least 14 high clarity and high color graded diamonds. If you have a larger budget, or would like more diamonds in your ring, you can find rings containing over 60 diamonds. From eternity bands to fashion rings and round cut diamonds to princess and baguette cut diamonds, you are sure to find the ring that will get you recognized.
 4. Diamond Tennis Bracelets
Diamond tennis bracelets are becoming increasingly popular, while their uniqueness will surely gain you compliments from your friends. If you are purchasing a tennis bracelet as a gift for someone special in your life, she will surely love this unique and gorgeous gift that sparkles with every twist of the wrist.
5. Elegant Earrings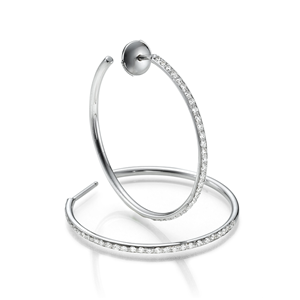 It is true that no woman's wardrobe is truly complete without a pair of diamond stud earrings. However, a pair of elegant diamond earrings is the ideal second pair of earrings. From fashion hoop earrings to invisible setting earrings and with an array of creative designs to choose from, the main difficulty will be choosing just one pair of elegant earrings. Elegant diamond earrings are particularly noticeable when worn by women with shorter hair, but at the same time will look great on anyone, at any occasion.
We hope you have found this blog helpful. If you have any questions about diamond jewelry, we can always be contacted on 1-800-557-7095 where one of our expert diamond jewelers will be happy to assist you. Alternatively, you can email us at sales@caratsdirect2u.com with any questions you may have.