When looking for a Christmas gift for your girlfriend, wife, mother or any other special woman in your life, there is a good chance she will have already asked Santa Claus for a pair of diamond stud earrings.
This is a gift she can be truly proud of and that people will notice easily. When it comes to diamond jewelry, nothing is more impressive than a pair of gleaming diamond stud earrings. With the holiday shopping season well and truly under way, here are five reasons why we think diamond stud earrings make the perfect gift for the special woman in your life.
1. Choose the Ideal Shape
There is such a great variety of choice when purchasing diamond stud earrings that you will surely find a pair that suits you and your budget. The most popular cut for diamond stud earrings is the round cut. The popular princess and oval shaped diamonds are also very suitable for diamond stud earrings. You might also want to consider the exquisite emerald, radiant, marquise and pear shape diamonds especially suited for an elegant pair of stud earrings.
2. A Gift That Gets Noticed
A pair of diamond stud earrings will surely not go unnoticed. Depending on the lucky woman who will receive this special gift, you can choose whether to buy larger stones that will certainly stand out, or smaller stones to complement other pieces of jewelry she is wearing. Should she prefer fancy color diamonds for those special occasions, they will always be a gift to be noticed.
3. Maximize Your Budget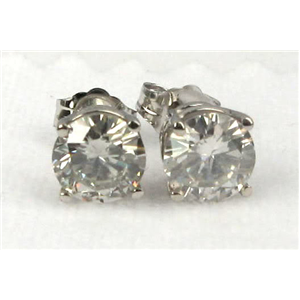 Due to the large variety of choices available, when looking for a pair of diamond stud earrings you can maximize your budget in so many different ways. For example, many customers choose clarity enhanced diamonds for their stud earrings in order to get the largest stones for their budget. The clarity enhancement treatment is a process that removes inclusions from a diamond whilst maintaining its status as 100% natural diamonds. If you are buying studs containing fancy color diamonds, you may choose stones that have undergone the HPHT or irradiated color treatment process. These are just some of the ways to maximize your budget when buying diamond stud earrings as a Christmas gift. Many customers choose to purchase loose diamonds and the setting for their stud earrings separately.
4. A Diamond Gift That Lasts Forever
One of the key benefits of purchasing diamonds is that they are incredibly durable, as depicted in De Beers' catchphrase "diamonds are forever". They are also "a girl's best friend". Once you purchase a pair of diamond stud earrings, the lucky recipient of your gift will continue to benefit from them for many years and they are sure to become a family heirloom. Therefore, not only are they a beautiful gift, they are also a fantastic investment.
5. A Gift for Anyone
Many items of jewelry can be attributed to a particular type of person or occasion, such as engagement rings and wedding rings. A gleaming pair of diamond stud earrings, however, can be for any person who is important to you.
Whether you choose to purchase a pair for your mother, girlfriend, daughter or any other special person, a pair of stud earrings will show the lucky recipient just how important they are to you. They are also not only limited to women, with studs becoming increasingly fashionable among men.
Visit our website to learn more about our great offers on diamond jewelry. If you have any questions, feel free to contact us by either emailing sales@caratsdirect2u.com or by calling 1-800-557-7095.