Before You Start
Purchasing a diamond engagement ring can often seem a daunting task. The moment the woman you want to spend the rest of your life with sees that glistening piece of jewelry should be a perfect and most memorable moment. You'll want to be sure that the only surprise she will get is a very pleasant one. I have therefore set out 4 simple steps to help you focus on the right aspects of a diamond engagement ring setting when you set out to find the ideal one.
Remember, every bride-to-be is different and has a different taste, so buying an engagement ring is more than just finding the ring you find the most beautiful that fits your budget. It's about who you are giving it to, what they mean to you and the ring that will make them feel the most special and proud to wear.
1. Set Out a Budget
Before you focus on the upcoming points, it is important to know exactly how much you are willing and able to spend on the engagement ring. Because every diamond is unique and personal, some customers choose to buy larger stones with a lower color grading while others may opt for a smaller stone with a higher, D-E color grading.
2. Finding the Right Center Stone
In order to pick out the perfect center stone with confidence, a brief knowledge of the Four Cs (Cut, Clarity, Color grading and Carat) weight will help give you peace of mind when beginning your task of finding the ideal diamond engagement ring. Firstly, you will need to decide whether you prefer a white diamond or a fancy color diamond, as this may well influence which side stones and which ring metal type you will choose.
If you decide to purchase a fancy color diamond center stone, a natural fancy color diamond will be far more expensive than a color treated stone, so it is important that you ensure you leave a bigger budget. The color grade of a diamond ranges between D, meaning completely colorless, to S, very light color, while the clarity grade ranges from IF (near flawless), to I3, meaning that inclusions (imperfections) can be seen more easily with the naked eye.
The price also varies based on the cut of the diamond. For example, the traditional Round Cut diamond is the most popular cut, resulting in it often costing up to 30% more than a similar clarity and color graded diamond in a different cut.
You may consider a fancy cut diamond, such as a Radiant or Princess Cut diamond as a center stone. A fancy color center stone in a fancy cut could be ideal for a woman who likes to have something a little unique, while a round cut diamond with a high color grade (D-F) and good clarity (VVS1-VVS2) will suit someone who tends to go for a traditional, yet spectacular, look.
There are no right or wrong answers when picking out a center stone but each of the Four Cs influences the overall cost. For example, a Cushion Cut Diamond Solitaire Engagement Ring in a 14K yellow gold band and 1.54 Ct center stone, in J color and SI2 clarity costs $4,361.60 while another diamond of the same cut and Ct weight but with a color grading of H and clarity of SI1 is priced at $9.548.60. That means that someone can still get a 1.5 carat stone for well under $5,000 by having a slightly lower clarity and color grading.
3. Choosing Side Stones
It is really a matter of taste and budget whether or not you decide you want side stones on an engagement ring. Fancy color side stones on either side of a white center stone can really complement the center stone and white side stones to a fancy color diamond on an engagement ring will emphasize the color of the center stone. For example, a three-stone 1.18Ct, SI2 clarity yellow color marquise diamond looks beautiful as the center stone in between two white diamonds on an engagement ring.
If you are purchasing the center stone and side stones un-mounted, be sure to check that each stone is the right size to be mounted to a ring. It is also important to ensure that the colors of the side stones suit the center stone well.
4. Choosing the Metal Type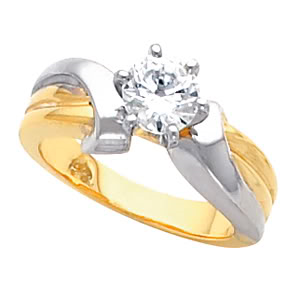 The main types of metal for an engagement ring are 14k or 18k white gold, 14k or 18k yellow gold and two-tone white gold and yellow gold. Whether a yellow gold or white gold setting is best often depends on the color of your center stone. For example, a canary yellow diamond would be set best in a white gold setting in order to highlight the color of the center stone.
A vivid yellow may look better in a yellow gold setting if you are looking for the ring color to blend with the center stone. Two-tone yellow and white gold settings look fantastic with high color graded white center stones. For example, the two-tone band on this engagement ring (right) gives the 1Ct center stone with D-E Color, SI Clarity real character.
5. Practicality
When purchasing a en engagement ring it is important that you take into account the lifestyle of the person you are purchasing it for. Does she spend a lot of time outdoors? If so, it will probably be wise to only consider rings that are unobtrusive and more compact, perhaps with a low setting. Someone who spends more time at home and is very fashion conscious would most likely prefer a higher engagement ring setting that stands out more.
CaratsDirect2U has a large collection of diamond engagement rings, from traditional Round Cut and Oval Cut white color diamond rings to fancy cuts such as the Princess Cut, Radiant Cut, Heart Cut, Cushion Cut, Marquise Cut, Pear Cut and Emerald Cut diamond engagement rings.
A traditional Solitaire Setting with a round cut center stone is the most popular engagement ring setting, but there are many other options if your fiancée-to-be would prefer something unique and perhaps a little more noticeable. Once you have decided your budget, take a look on our website and find the perfect diamond engagement ring for that special girl.
If you have any further questions, we can be reached by either emailing sales@caratsdirect2u.com or by calling 1-800-557-7095.