The classic round cut prong-set diamond ring is still the most requested diamond engagement ring style. Charles Lewis Tiffany, with the company's jewelers, wanted to create a ring that showed off more of the diamond itself. They created the prong-setting all the way back in 1886 and it is still the default setting most people think about when they picture an engagement ring.
But what if you want a non-traditional engagement ring?
Not every bride likes the design of the prong-set engagement ring though. Some of its drawbacks is that it tends to snag easily. And because the diamond in this type of ring is more exposed, it tends to chip more easily.
There are also brides with more atypical tastes who prefers to wear a unique jewelry piece.
Remember that YOU are the one that is going to wear the engagement ring
A diamond engagement ring is more than just a jewelry piece. It is a symbol of the love between you and your partner. It is a prediction that the love between the two of you will be as everlasting as a diamond. And it is a sign of the commitment that you pledged to each other.
Shouldn't you then wear a ring that makes your heart warm whenever you look at it?
Some ideas for unique engagement rings
Here at CaratsDirect2U we love to use the word unique to describe our diamond jewelry. Of course we carry the traditional classics but we like to make ALL of our customers happy. However many of our one-of-a-kind diamond rings will make excellent engagement rings.
In the three-stone diamond ring category we have this beautiful representative: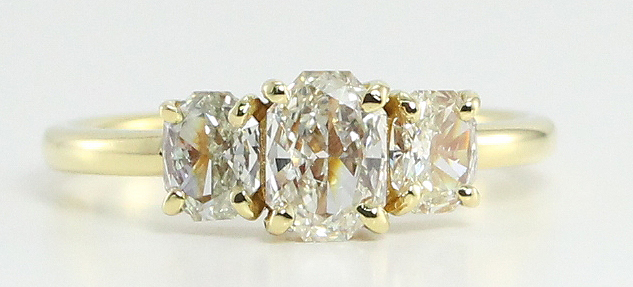 In our multi-stone diamond ring category this diamond ring will make any bride's heart sing.
Our invisible set diamond ring category have many beautiful engagement ring options, but we would like to highlight this clustered ring with diamonds on the shanks (sides).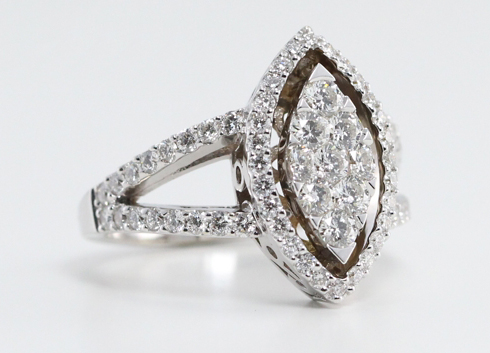 The answer is YES!
The answer is yes, you CAN get engaged with a non-traditional diamond ring. We are happy to help with any unique diamond engagement ring questions, just call us at 1-800-557-7095.
But you are on your own for asking her to marry you..:)