You cannot have a wedding without the wedding band!
The never-ending circle shape of the wedding ring have for generations represented eternal love. It is also no wonder that the strong and enduring nature of the diamond stone have been associated with eternity. Together, they are the perfect symbol of the combined love of a married couple.
At CaratsDirect2u.com we have a large selection of diamond wedding bands and ring styles for our customers to choose from. Here are five different styles that will definitely make you shine at your wedding!
The Eternity Diamond Wedding Bands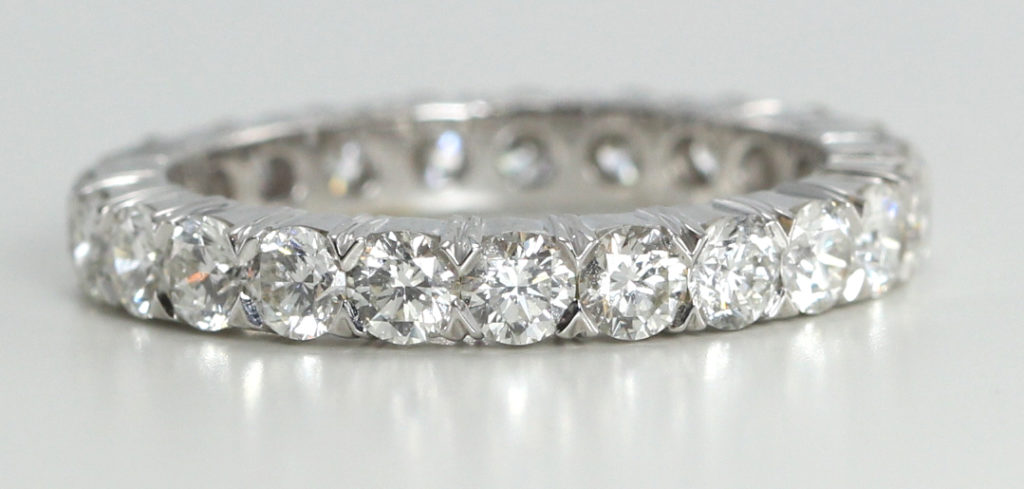 The eternity band features round cut diamonds that wrap completely around the finger. It is also popular as an engagement ring and often given to mark a special occasion such as an anniversary or the birth of a child.
The unbroken line of diamonds is however the perfect token of love between a couple on their wedding day.
Have a look at our selection of full and half eternity wedding rings.
Channel Set Diamond Wedding Bands
In a channel setting, the diamonds are mounted in a channel between two strips of precious metal. The mounted stones often continue along the entire band of the ring.
One of the biggest advantages of the channel set wedding band is that the diamonds are protected at the sides. The diamond stones are also less likely to chip from accidental blows or catch on clothing. It is the ideal wedding band for someone with a very active lifestyle.
Browse our selection of diamond rings with channel settings.
Five-Stone Diamond Wedding Bands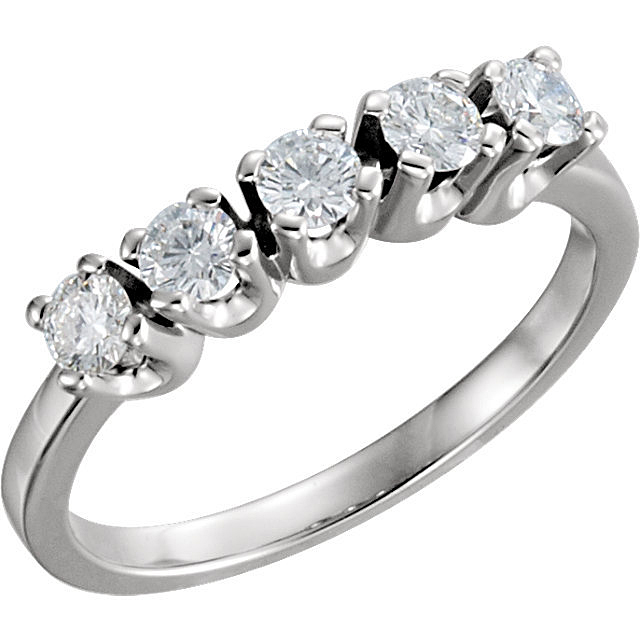 If you prefer a wedding band with larger diamonds, how about a five-stone diamond ring? The stones create a lot of sparkle together and the setting is a perfect showcase for every diamond.
This is a bit of a unique style for a wedding band, so if you cannot find the exact wedding band that you have in mind, we can make it for you! Have a look at our diamond jewelry customize page for a step-by-step explanation of the process.
Rose, Yellow And White Gold Diamond Wedding Bands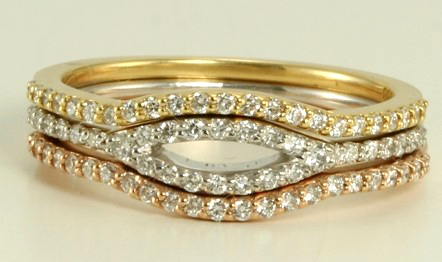 If you cannot choose between white, yellow or rose gold for your wedding band, maybe you should combine of three? Mixed metal diamond jewelry is slowly becoming more and more fashionable these days. The pieceslegantly breaking the 'rule' that you should not wear more than one metal type at a time.
The beauty of the mixed metal wedding band is intimately dependent on a proper design. Be sure to carefully study the rose, yellow and white gold wedding band that you want to buy. The three types of metal, as well as the diamonds, should not be shadowed by each other but they should make a harmonious piece of jewelry together.
Unique Wedding Band With A Double Row Of Diamonds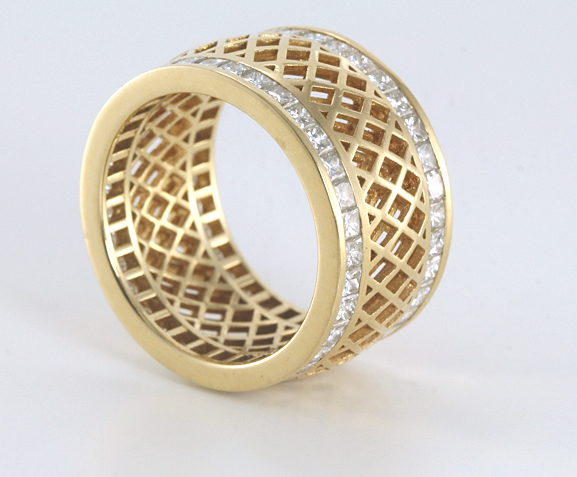 Just as every person finds his or her unique partner, so do we here at CaratsDirect2U believe that person will find their unique wedding band.
Maybe it will take some time, and maybe this ring will be very different from traditional styles, but eventually you will find it.
There is definitely a wedding ring out there for everyone!
Please feel free to contact us at our toll-free number 1-800-557-7095 or send an email to sales@caratsdirect2u.com if you need any diamond wedding band or diamond jewelry advice or if you are interested in our diamond jewelry customizing service.