What Are Invisible Set Diamonds?
The invisible diamond setting is one of the most unique and beautifully crafted diamond settings that exist. It requires incredible skill to create and not all diamond manufacturers have the skilled workers that can produce this setting. An invisible setting involves several stones, usually princess cut diamonds which are carefully set against one another, creating an "invisible" look due to the fact that no metal prongs, beads or channels are visible.
Why Choose The Invisible Diamond Setting?
A successfully set invisible diamond setting will radiate tremendous sparkle and consistency between the stones, making the diamond particularly distinctive and attractive. Many of our customers choose the invisible setting as it gives the impression that the diamonds are larger than their actual size.
One example is an 18k Invisible Setting Engagement Ring set with a 0.59 Ct Princess Cut Diamond surrounded by Round diamonds (see right). Our customers might choose an especially unique and noticeable design for their invisibly set ring, with a range of shapes and designs being matched with a variety of diamond cuts. Invisible diamond setting pendants are also fashionable, with their creative designs being sure to catch one's eye.
Five Tips When Buying Invisibly Set Diamond Jewelry:
1. Check the Source – Invisible settings are exceptionally difficult to produce. However, sometimes unskilled workers will try and offer them to customers nevertheless. Make sure that you purchase your jewelry from a reputable and trustworthy source. CaratsDirect2U has been manufacturing diamonds for over 60 years, so we have the experience and expertise to recognize when a piece of jewelry has not been set to the highest standard.
2. Jewelry Quality – One of the first things to check when purchasing jewelry with an invisible diamond setting is that the pieces have not been precast in wax – this is a clear indication of inferior quality. Not only do the stones have a higher chance of falling out, but they will be incredibly challenging for specialists to reset. Purchasing from a recommended jeweler or showing your stone to a second jeweler will confirm whether the invisible setting has been pre-cast in wax.
3. Look out for Illusion Cut Stones –Sometimes a more conventional diamond setting will appear to be an invisible setting. In fact, however, such an item could be merely one rectangular stone with small grooves, thus simulating an invisibly set ring. Again, purchasing from a reliable source will ensure you avoid this problem.
4. Stone Quality – Because this setting requires several stones, make sure you know the clarity and color rating of the stones. It is important to know if any of the stones in the setting are of a significantly lower quality compared to the rest, although one lower quality stone shouldn't necessarily rule out you buying the item. At CaratsDirect2U most of the diamonds in our Invisible Settings tend to be in the higher end of the color range (D, E, F and G) and clarity (VVS1, VS1, VS2) .
5. Stone Size – The invisible setting is usually most affective when the diamonds are of the same size, making sure that the setting is stable and that the diamonds will stay in place. If they are not, then you run the risk of the stones falling out and of the jewelry not looking its potential best.
Good Luck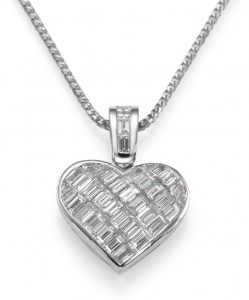 If you do choose to purchase an invisibly set piece of jewelry, after following our advice on this blog you are sure to be happy with your purchase. The invisible diamond setting is perfectly adaptable to any occasion and item of clothing. However, due to its unique nature and sophisticated tones, some of our customers choose to buy this genre of jewelry specifically for special occasions.
CaratsDirect2U offers a variety of different invisible settings, with a collection of shapes and colors to choose from. We offer invisibly set pendants and diamond engagement rings, with a vast choice of creative designs and shapes.
If there are any aspects of purchasing diamonds online you are unsure about, our website offers extensive guidance and we can be contacted on 1-800-557-7095. Alternatively, you can email us at sales@caratsdirect2u.com with any queries.