CaratsDirect2U offers our customers a large range of Treated and Natural Color Diamonds. In addition, we offer HPHT Color Treated Diamonds as well as Color Irradiated Diamonds alongside Natural Fancy Color Diamonds. All are available in a wide range of colors and clarities and are mounted as rings, pendants or earrings in 14k or 18k White Gold or Yellow Gold. In addition, we also have a wide selection of loose diamonds.
What Are The Benefits of Buying Irradiated or HPHT Color Treated Diamonds?
• Large Savings – An Irradiated or HPHT Treated Diamond can cost up to 75% less than the same diamond in a natural color. For example, CaratsDirect2U offers a 1ct VVS2 Emerald Cut Canary Yellow Diamond for approximately $2,500, whilst on another website a 1.08ct VS1 Fancy Intense Yellow Emerald Cut Diamond sells for over $10,000.
• Irreversible Treatments – If you have read our articles about HPHT Diamonds and Irradiated Diamonds, you will have noticed that these treatments are irreversible, so there is no need to worry about the color changing or fading if they are properly cared for.
• Fancy Color At The Price Of A White Diamond – Diamond that are color treated are done so by taking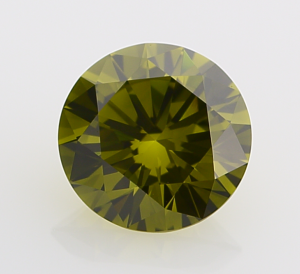 a poor white color diamond and turning it into a fancy colored diamond at almost the same price of the white diamond. At CaratsDirect2U.com you can find a Round Cut Loose Diamond 0.55 Ct, H Color, SI2 Clarity for approximately $850, and a Round Cut, 0.57 Ct, Olive Green, Color Irradiated Diamond with SI2 Clarity for approximately $650. Thus, the treated color stone can be bought for $200 less.
• A Variety of Colors – There are certain colors that are obtainable only after undergoing the HPHT or Irradiated Treatments and are available in such colors as: Apple Green, Olive Green, Forest Green, Pine Green, Canary Yellow, Golden Yellow, Heaven Blue, Ice Blue, Sky Blue, Ocean Blue and many more.
• Easier to Match a Pair – When treating an HPHT or Irradiated Diamond, the expert treating the diamond knows the exact color they will obtain before the diamond is treated. This means that when a customer is looking for a specific color stone, it will be far easier for them to find a color treated diamond in the exact color they are looking for than if they are looking to find a match for a natural fancy color diamond.
If you have any questions about HPHT or Irradiated treated color diamonds please call us at 1-800-557-7095 and we will be happy to assist you.