Star Diamond Jewelry The Stuff of Dreams
Every woman wants her star, the one that knows all her secrets, all her aspirations, all her strengths and all her weaknesses. The diamond shows with all its facets the many sides of her inner self, its clarity says it's real, its color reveals her depth and the cut displays her perfection.
The strength and hardness of the gemstone tells her that her lover's acceptance of what she really is and his "being there" is unconditional and forever. Star Diamond Jewelry says you can also wear these secrets with with happiness.
It's All in The Stars 
Think of a star and either your favorite celebrity will come to mind, or you will dream about the twinkling one up in the sky or perhaps meditate upon the mystical five or six pointed versions. Whichever of them, they all have one thing in common, the aspiration, the inspiration and the satisfaction of your imagination and emotion. You can always count on a star to take you where you want to be or even become a real star yourself. It's that easy with a stunning piece of star diamond jewelry or an exquisite star shaped diamond.
Remember when we used to sleep in a crib and sing, "Twinkle, twinkle little star … like a diamond in the sky", then it was Dylan with "Yes, to dance beneath the diamond sky with one hand waving free" and after the Beatles with "Lucy in the sky with diamonds," followed. Diamonds have always been in the sky and like the sky they have always given us hope and freedom.
Birthdays, weddings, anniversaries, showing your love and friendship can all be expressed with diamond jewelery and so much more so when combined with the sparkle of a star.
Star Diamonds 
Diamonds can be round or square, marquise or oval, pear or heart, cushion or briolette and even triangular or emerald, every shape for every emotion. Yet there is one shape that says it all because it takes your emotion to your imagination a star shaped diamond that has all the power of a diamond with all the magic of star.
This can be created by kite shaped diamonds and by setting them together a perfect shaped five or six pointed star can be created. They say that pure positive emotions are harmonious and what can be more perfect that the geometry of a star, those angles and points all adding up to those mystical numbers and permutations.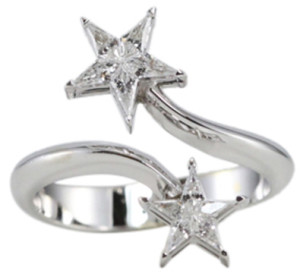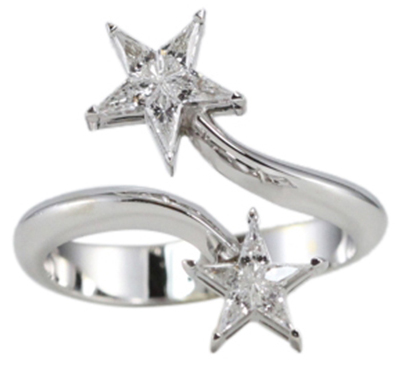 Star Diamond Jewelry
Let the jeweler create with his skill and imagination pieces in the shape of stars with endless possibilities and any number of points. No two diamonds, no two stars and no two people are alike, each is unique. Our jewelry offers you an expression of your uniqueness to take you to the sky of your dreams and imagination. If this were not enough just adding the protective powers of white gold or yellow gold, the jeweler's medium, will turn you into a winner.
Star diamond rings: Gorgeous star rings with kite shaped diamonds accentuating an elegant finger.
Star diamond bracelets: A wrist encrusted with star diamonds will turn any head.
Star diamond pendants: Any neck will sparkle with this glamorous diamond pendant
Star diamond earrings: A flash and a flicker of these amazing earrings will give any face an added gleam and glitter.
Just wear this jewelry or these magical diamonds and be empowered with the harmony of numbers and build the symmetry and balance of love and affection into your lives
Be a star with diamond jewelry!