Matching Multi Stone Diamond Pendants with Elegant Diamond Earrings
Multi stone diamond jewelry pieces are creative by nature and unique by reputation. This means that it is not always as easy to find matching sets of multi-stone jewelry pieces as it is to match a solitaire diamond engagement ring to a solitaire diamond pendant chain. CaratsDirect2U has a great collection of diamond jewelry pieces that can be matched to other items on our website.
Here are just four suggestions of matched sets from our online diamond jewelry collection.
1. A Pair of 5-stone Kite Shaped Diamond Earrings matched with a 5-stone Diamond Pendant
We have matched this diamond pendant chain with 5 kite cut diamonds weighing a total of 0.31 carats and with an H color and VS clarity grade to an elegant pair of kite cut star shaped diamond earrings weighing 0.35 carats with G-H color and VS clarity graded diamonds. Both containing diamonds with a similar color and clarity grade, as well as with a similar carat weight, the two diamond jewelry pieces make a fantastic set together.
2. 18k Yellow Gold Bezel and Invisible Setting Pear Shaped Diamond Flower Jewelry Set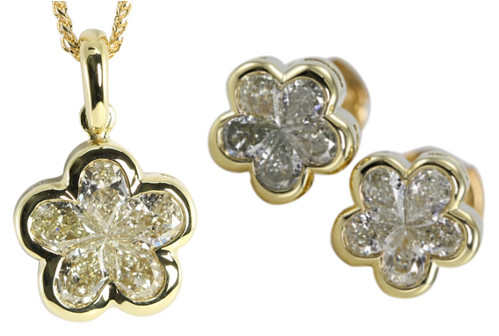 At a combined price of just over $1,200, this matching earring and pendant set could be a great wedding anniversary gift. Set with both the invisible setting and the bezel setting and with a combined carat weight of 1.81 carats, these two diamond jewelry pieces are ideal for everyday use.
3. 2.05 Carat Invisible Setting Pear Cut Diamond Flower Earrings Matched with a 1.12 Carat Pear Cut Invisible Setting Diamond Flower Pendant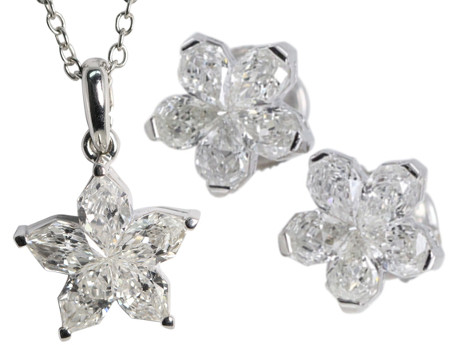 We have paired together these two diamond jewelry pieces as they boast high quality in every way. Both the pair of diamond flower earrings and the diamond flower pendant contain high color graded F and G colored pear shaped diamonds. They also have a VS clarity grade and a combined carat weight of over 3 carats.
The invisible setting does not only mean this jewelry set will be easily noticed, it also makes purchasing jewelry pieces with a high carat weight affordable, at only $4,300 for both pieces.
4. Matching Invisible Setting Round Cut Diamond Flower Earrings and Invisible Setting Flower Diamond Pendant with Surrounding Blue Sapphire Stones
This pair of 18k white gold diamond flower earrings with invisible set G color round cut diamonds surrounded by 18 blue round sapphire diamonds already looks great on their own. Match them to an 18k white gold invisible setting round cut diamond flower pendant with G colored diamonds surrounded by blue sapphire stones weighing a total of 0.53 carats and you have the perfect match.
If you would like to know more about matching diamond jewelry sets, we can always be contacted on 1-800-557-709 where one of our expert diamond jewelers will be happy to assist you. Alternatively, you can email us at sales@caratsdirect2u.com with any questions you may have. If you have a diamond jewelry piece that you would like to match, we can also create customized diamond jewelry pieces.