Why Buy Invisibly Set Diamond Jewelry?
The invisible setting is becoming an extremely popular jewelry setting. Of course, the first thing you will notice when looking at a piece of diamond jewelry with the invisible setting is that each item looks unique, elegant and, most importantly, absolutely beautiful. However, there are other reasons to purchase such a piece of jewelry.
One reason is the way they are made – several small diamonds set in a way that the total carat weight of the diamonds look larger than they actually are. This is because the diamonds are set so close to each other with no visible prongs, that from a certain distance the diamonds look like one stone rather than several smaller diamonds.
Five Invisible Set Diamond Jewelry Pieces Gift Options

We have a great selection of invisibly set diamond rings, diamond pendants and diamond earrings. Take a look at some of our most exciting pieces:
0.77 Ct, G Color and VS Clarity Round Cut Invisible Setting Diamond Flower Earrings set in 18k White Gold. Price: $1,562.80
With each diamond stud containing 7 high clarity G color graded white diamonds and 18 blue sapphire gemstones, this invisibly set pair of diamond stud earrings is great to keep for those special occasions. They will most certainly get you compliments from your friends.
28 Ct, G Color and VS Clarity Marquise Shaped Princess Cut Diamond Engagement Ring set in 18k White Gold with the Invisible Setting. Price: $1,445.30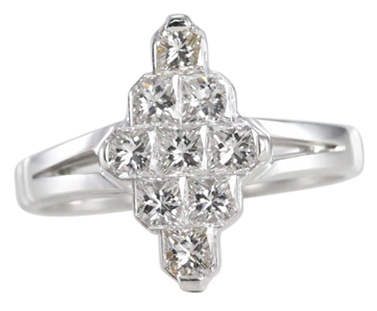 This diamond ring designed in a double-pyramid style is a great alternative to the more common solitaire or halo diamond ring setting. Because these 9 diamonds are invisibly set and combine to weigh 1.28 carats, the jewelry piece is far more affordable than if the ring contained one marquise diamond weighing 1.28 carats.
18k White Gold Round Cut Diamond Pave Setting Flower Pendant (0.5 Ct, Natural Fancy Yellow & G Color Graded Diamonds, SI2 Clarity). Price: $957.60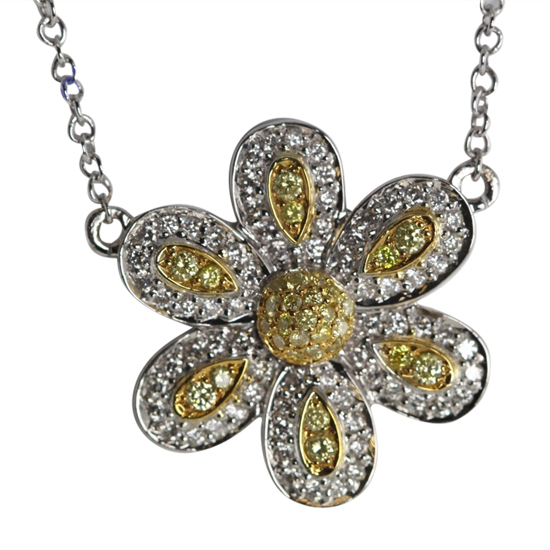 This flower pendant contains several G color white diamonds, as well as natural fancy color canary yellow diamonds. This pendant is a great gift to purchase for someone special this summer and is priced at under $1000.
1 Ct, G Color and SI3 Clarity Princess and Round Cut Diamonds set into 18k White Gold Invisible Setting Heart Shaped Pendant. Price: $1,474.60
This beautiful heart shaped pendant contains three princess shaped diamonds and is surrounded by several round diamonds. Enjoy this pendant for everyday use or save it for special occasions.
0.35 Ct, G-H Color and VS Clarity Kite Cut Diamonds set into 18k White Gold Invisible Setting Star Shaped Stud Earrings. Price: $1,239.60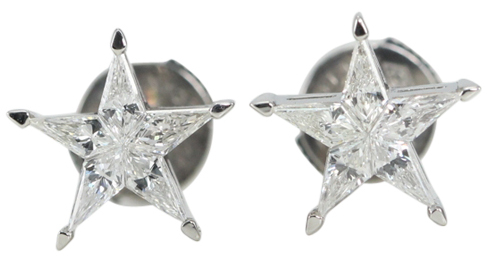 The kite shape, similar to the marquise shaped diamond, is great for creating star shaped pendants. Their straight lines and sharp ends allows the diamonds to fit into the invisible setting perfectly. The way these diamonds are set into the star shaped setting increases the surface area of the pendant, making the total diamond carat weight appear larger.

More Invisible Setting Diamond Jewelry Gifts at CaratsDirect2U
We have far more invisibly set elegant diamond earrings, diamond rings and diamond pendants on our website. Further, most of our invisible setting diamond jewelry pieces are listed with 360 degree videos, there has never been a better time to buy diamond jewelry online.
If you can't find what you are looking for, we can also customize almost any piece of diamond jewelry. For more information, contact us on 1-646-362-2141 or email sales@caratsdirect2u.com.