What You Need to Know When Purchasing Elegant Diamond Earrings
Why Buy Elegant Diamond Earrings?
When it comes to earrings, there is nothing more sophisticated and creative than a pair of elegant diamond earrings. We have a vast range available, with a variety of carat weights, colors and clarities to choose from. Nothing is more elegant than diamond earrings set with an array of sparkling diamonds which will make any special occasion even more special. We have put together the following guidelines in order to help you pick out the ultimate gift for someone you love or even yourself.
1. Who Are The Elegant Diamond Earrings For?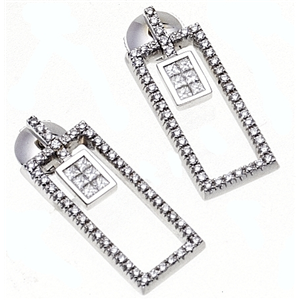 When it comes to diamond jewelry, everyone has different tastes, meaning that it is always important to consider who you are purchasing the gift for. With elegant diamond earrings, some will prefer an item that gets them noticed, such as this pair of fashion earrings laced with 100 round and princess cut diamonds equaling 0.98 carats. Others, on the other hand, have a preference for earrings containing less stones, such as a pair of invisible setting earrings, each set with 4 Princess shaped diamonds equaling 0.35 carats. The great news is that we have a fantastic choice available, whoever the lucky recipient is.
2. What is Your Budget?
Save time by having a budget in mind before you set off to buy the earrings. At CaratsDirect2U, we have a price range available for our elegant diamond earrings collection from under $1,000 to over $5,000. You are therefore likely to find the right item of jewelry to suit your budget.
3. How Many Stones?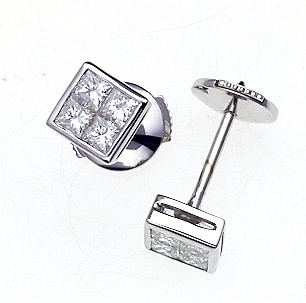 When it comes to the number of stones in a piece of diamond jewelry, more is not always better. Again, this depends on who you are purchasing the item for and your budget. Elegant diamond earrings set with the invisible setting are becoming increasingly popular and can contain over 100 stones. However, you should keep in mind that it requires great skill to create the invisible setting so be sure to purchase from a reputable jeweler. If you are looking for something more traditional, you should consider a pair of earrings containing 4 to 8 stones each.
4. What's The Best Shape?
Another unique beauty of invisibly set jewelry is the opportunity to wear an item of jewelry containing several stones of more than one shape. Alternatively, if you are purchasing elegant diamond earrings for someone who has a preference for one particular shape, then she may love nothing more than to receive an item of jewelry containing her favorite shape.
CaratsDirect2U has a great selection available of elegant diamond earrings, from earrings set with several princess cut diamonds to earrings embossed with over 100 round and princess cut diamonds. They will complement any other item of jewelry and are ideal pieces of jewelry to reserve for special occasions.
If you have any questions about diamond jewelry, we can always be contacted on 1-800-557-7095 where one of our expert diamond jewelers will be happy to assist you. Alternatively, you can email us at sales@caratsdirect2u.com with any questions you may have.