Great Heart Shaped Diamond Jewelry Ideas for Valentine's Day 2015
This Valentine's Day, why not buy the special girl in your life a beautiful piece of diamond jewelry? There is no better way to tell her how you feel than a heart shaped diamond. Here are three heart shaped diamond jewelry ideas for Valentines Day:
1. Heart Shaped Diamond Pendant Necklaces
Diamond solitaire pendants will never go out of fashion. We have both high-color grading and fancy color heart shaped diamond pendants to choose from. We also have clarity enhanced heart shaped diamond pendant necklaces for those willing to maximize their budget while purchasing a larger diamond. This Valentine's Day, CaratsDirect2U are offering 5% off all heart shaped diamond pendants from February 1st – February 14th.
2. Heart Shaped Loose Diamonds
Choose one of our exquisite loose Heart Shaped Diamonds to complement an existing item of jewelry or to design your own special piece. We can help you choose a Heart Shaped Diamond from our extensive selection and then choose the setting separately. Whether you are looking for a ring or a pendant, we can help you choose the right diamond for your needs and your budget. Check out our selection of both fancy color and white loose heart shaped diamonds.
3. Heart Shaped Diamond Engagement Rings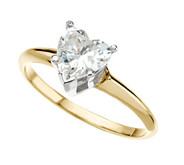 The weeks leading up Valentine's Day and the day itself are known to be a popular time to pop the question. Why not ask her whilst holding a beautiful heart shaped diamond ring? We have a range in prices so it shouldn't be difficult for you to find what you are looking for. For example, a heart shaped diamond solitaire engagement ring in a 14K yellow gold setting, 1.32 carats, I color and SI2 clarity rating with a GIA Certification costs under $4000. Between February 1st and February 14th you can save even more with 5% off all heart shaped diamond solitaire engagement rings.
Other Valentine's Day Gift Ideas
If you are not looking for a piece of heart shaped diamond jewelry this Valentine's day, we have plenty of other options. Why not take a look at our great selection of diamond tennis bracelets, diamond love bracelets or diamond stud earrings.
If you have any questions about diamond jewelry, we can always be contacted on 1-800-557-7095 where one of our expert diamond jewelers will be happy to assist you. Alternatively, you can email us at sales@caratsdirect2u.com with any questions you may have.