Time to Be Adventurous
A diamond wedding band is the perfect answer for those who are looking for an extra special way to surprise their wife on her wedding day, anniversary or any other special occasion. We have therefore provided you with some tips before you make this special purchase.
1. Start Looking Early
If you intend on presenting a diamond wedding band to your wife on your wedding day, you need to start the search for the perfect wedding band early. We advise that you begin the search around 2 months before the wedding date. This will give you a chance to research prices and designs and get a better idea of what you are looking for.
2. Set a Budget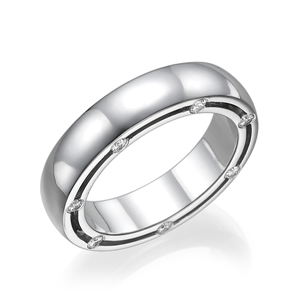 It is important to have an idea of how much you are willing to spend before you begin your search. For a diamond wedding ring, prices on our website start at under $1000. For this price you can purchase an elegant eternity band set with 7 stones equaling 0.36Ct, G Color and VS1 Clarity. For $1,645, you can buy a 1.05 carat invisible setting baguette wedding band with a VS1 clarity and G color grading. Both examples are beautiful yet unique.
 3. Plan for the Future
Similarly, make sure your ring is comfortable enough to wear every day. Further, you should ensure the wedding ring design you choose is going to appeal to you 20 years down the line.
4. Choose the Diamond Setting
Decide whether you would like smaller diamonds in your wedding ring or a diamond wedding band embellished with several stones, such as an invisible setting diamond ring. You should take into account the design of your engagement ring. If your engagement ring already has an invisible setting or side stones, you may want an eternity wedding band. You will want people to be able to easily tell the difference between your wedding band and your diamond engagement ring.
5. Check for Quality
This is important when buying any piece of diamond jewelry. There are two significant indications you should be looking out for. Firstly, check the manufacturer's trademark, proving that they stand behind the ring they created. Secondly, check the quality mark (for example "14K" or "18K"), proving the metal.
Lastly, enjoy your wedding day!
If you have any questions about diamond wedding bands or any other aspects of diamond jewelry, we can always be contacted on 1-800-557-7095 where one of our expert diamond jewelers will be happy to assist you. Alternatively, you can email us at sales@caratsdirect2u.com with any questions you may have.