There is no gift more meaningful than jewelry, whose diamonds are handpicked and cut by experts. This year, why not buy someone important to you a gift that says it all, something that they will cherish forever?
With Cyber Monday and Black Friday not far away, we will be offering free shipping on all items over $800 and great discounts on selected items. We have listed our favorite suggestions of diamond jewelry which will be a perfect gift for Christmas 2014.
1. Diamond Love Bracelet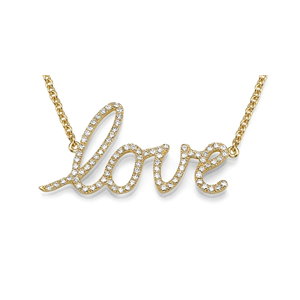 This 18k yellow gold fashion love bracelet with 0.56 Ct round cut diamonds, G Color and VS1 Clarity allows you to ensure the recipient will always remember how important you are to her. At $940, this could be the ideal gift for under $1000.
2. Fancy Color Stud Earrings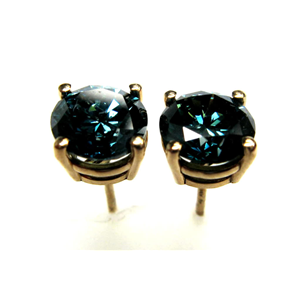 Are you looking for a gift for someone who appreciates the rare things in life? If so, take a look at this pair of round diamond stud earrings with a 2.25 Ct blue color center stone and SI2 Clarity in a 14K yellow gold setting. With Thanksgiving not far away, you may be tempted to wear this beautiful pair of earrings at your festive Thanksgiving dinner.
3. Diamond Bangle Bracelet
Are you looking for a gift for someone who enjoys wearing an array of diamonds on one piece of jewelry? Look no further than the diamond bangle bracelet. Any girl will be happily surprised to receive this sparkling 18k Bangle Bracelet laced with 1.5 Ct Princess and Round Cut diamonds with a G color and VS1 Clarity rating.
4. Gain More With Clarity Enhanced Loose Diamonds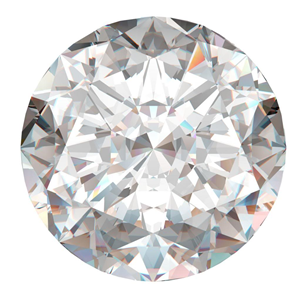 This round cut 1.95 Ct loose diamond with an I color rating and SI3 clarity has been clarity enhanced. This means that it has undergone a treatment to improve its clarity, while remaining 100% a natural stone. On our website, this diamond which has been clarity enhanced sells for $4,345, while1.91 Ct, H color and SI3 clarity diamond of the same cut which is not enhanced sells for $7,974. This means that by purchasing a clarity enhanced diamond, you can save 46%, which will allow you to maximize your budget and purchase a larger stone.
5. Fashionable Invisible Setting Earrings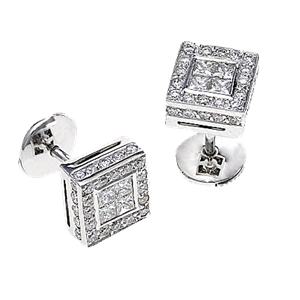 This sparkly pair of 18k white gold fashion earrings is invisibly set with 1.26 carat Princess & Round Cut diamonds with a G color and VS1 clarity rating. Diamonds that are invisibly set can only be mounted by the most skilled manufacturers, making each item of jewelry particularly distinctive.
6. Diamond Solitaire Pendant for under $1,000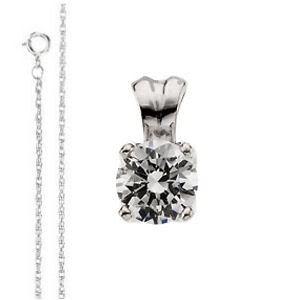 Looking for a pendant with a high color and clarity grading for under $1,000? This solitaire pendant necklace has a 14K white gold chain has a color grading of E and clarity of VS2, with a gleaming 0.45 Ct round cut diamond. This pendant will make a great gift for someone who particularly appreciates diamonds with a high grading.
7. The Distinctive Multi-Band Ring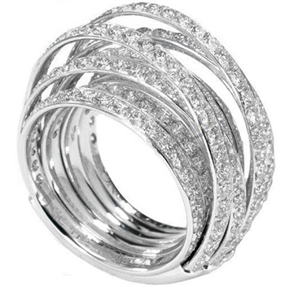 Who said rings are just for engagements and weddings? This white gold multi-band fashion ring is laced with 3.22 Carats of Round Cut diamonds of G Color and VS1 Clarity. It's a special item of jewelry that will look perfect with an elegant dinner outfit.
CaratsDirect2U Holiday Shopping Season Deals
Visit our website for this year's holiday season deals. We will be offering free shipping for all diamond jewelry over $800 during the weeks of Cyber Monday (December 1st – December 8th) and Black Friday (November 28th – December 5th), as well as other special offers during the holiday shopping season. Be sure to order before December 19th to ensure you receive your purchase before Christmas. Remember, we ship to USA, Canada and Europe among other locations.
If you have any further questions regarding diamond jewelry trends, we can be reached by either emailing sales@caratsdirect2u.com or by calling 1-800-557-7095.