Holidays Are Coming
The diamond jewelry industry is dynamic and under constant change due to current fashion trends, as well as to consumer needs and budget which ultimately affect consumer behavior. The fast-evolving world of fashion influences the type of diamond jewelry consumers look for. Many consumers are looking for the perfect piece of jewelry that will complement their wardrobe. As we approach the Holiday Shopping Season, we would like to share with you the up-and-coming trends in diamond jewelry so that you can keep up when looking for that ideal Christmas gift.
1. Diamond Tennis Bracelets

With a Diamond Tennis Bracelet, you can wear an array of gleaming diamonds on one elegant piece of jewelry. The majority of customers choose tennis bracelets laced with white diamonds, although fancy yellow color diamonds in a white gold setting may suit those who want a more distinctive look.
2. Diamond Stud Earrings

Diamond Stud Earrings have recently become one of the most favored items and a woman's cannot wardrobe can be complete without them. From a traditional round cut to a pair of fancy princess or radiant cut diamonds, you can be sure to find the ideal pair of studs for someone special this year. We have Diamond Stud Earrings to suit any budget, with stones in sizes ranging from under ½ carat to over 3 carats. For those whose taste runs to the unique, why not consider studs with fancy color stones? Take your time to choose the ideal stud earrings and she won't be disappointed.
3. Fancy Color Diamonds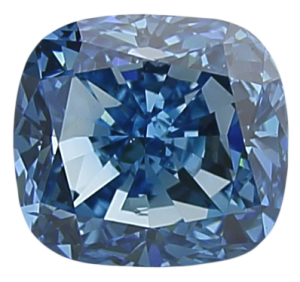 Fancy Color diamonds continue to increase in popularity. Many celebrities have been seen wearing fancy colored diamond jewelry, with TV's Oprah Winfrey known to be an aficionado of fancy colored diamonds. Singer Jennifer Lopez was seen sporting a Yellow Fancy Color cushion cut 50.40-carat diamond ring set in 18k yellow gold and ebony wood when she was a guest judge on the show American Idol. Depending on your budget and personal preference, we have an extensive choice of natural fancy color diamonds as well as HPHT and irradiated fancy color diamonds.
As colored diamonds become increasingly rare, natural fancy color diamonds will continue to present fantastic investment opportunities besides being a very special gift for someone who will appreciate their rare beauty. In order to maximize your budget you might want to consider choosing HPHT or irradiated color treated diamonds. By purchasing a diamond that has undergone these treatments, not only will you have a beautiful diamond, but at a saving of 45% – 70% less than a natural fancy color diamond with a similar cut, clarity, carat weight and color.
4. Clarity Enhanced Diamonds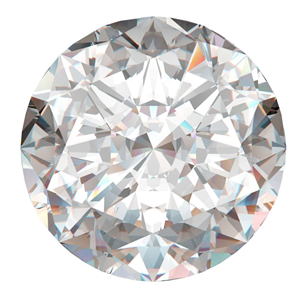 Diamonds that have undergone the clarity enhancement treatment are currently very desirable. The diamonds' grading is significantly improved by the insertion of a silicone-like liquid that fills miniscule cracks called inclusions. The result of this process for the customer is that a larger stone can now be purchased without compromising the quality of the diamond. Clarity enhanced diamonds are very popular on diamond stud earrings, where a large diamond is often particularly desirable, adding it to the list of this season's diamond jewelry trends.
5. The Oval Cut Is Back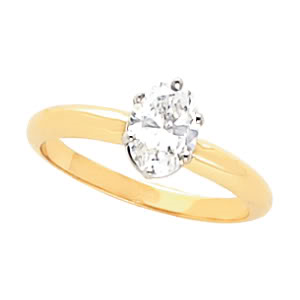 After the Round Cut Diamond, the Oval Cut is now the second most popular diamond cut. For a woman who wants a more unique look, an Oval Cut Diamond has all the brilliance and shine of a round diamond, just with that little distinctiveness she's looking for. The oval cut looks impressive on a ring, particularly for those looking to accentuate their slender fingers. As an example, take a look at this 14K white gold setting solitaire sing, with a 0.71 Ct, H color, SI2 clarity Oval center stone.
6. Look Special with the Invisible Setting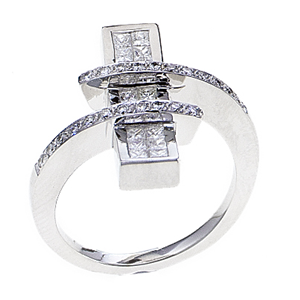 The stones in the jewelry with this setting have been set in such a way that the actual setting cannot be seen, hence the term "invisible". An incredible amount of craftsmanship goes into creating the perfect invisible setting, with only the most skilled workers being able to produce it. Due to the unique look that this setting gives a piece of jewelry, this setting is surely going to increase in desirability.
What CaratsDirect2U Has to Offer
This holiday season we will be making the most of dedicated e-commerce days such as Cyber Monday. From Cyber Monday, December 1st to December 8th, we are offering free shipping on all jewelry over $800, with discounts on selected items.
If you have any further questions regarding diamond jewelry trends, we can be reached by either emailing sales@caratsdirect2u.com or by calling 1-800-557-7095.