We just added a large selection of exciting new Fancy Colored Diamonds to our HPHT treated Diamond Collection. Our current collection includes Pink, Purple, Orange, Green, and Brown Colored Diamonds, with more colors on the way. The diamonds are available in the following shapes:Round, Pear, Cushion, Oval and Trillion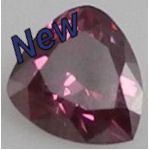 This collection of HPHT colored diamonds offers our customers high-quality IF, VVS1, VVS2, VS1, VS2 with beautiful colors at a fraction of the price that it would cost to buy natural fancy colors. Our collection is available as Loose Diamonds, Diamond Pendants and Solitaire Engagement Rings mounted in 14k white gold.
You can view this collection through our postings of actual photos of the Colored Diamonds. Now you can afford to purchase beautiful high quality Fancy Colored Diamonds at amazing prices.
Check out our collection and start saving.